12 Years*
Industry Experience
Platinum SEO Services Melbourne
Platinum SEO Melbourne is one of the Leading SEO company in Melbourne. So, you need your business to be found right? Well that's what SEO (Search Engine Optimisation) is all about. With billions of searches made every day on Google, Platinum SEO Services will help you to target anyone searching for your services or products and assist in making sure your website stands out from your competitors. With having more than 12 years of experience in digital marketing and have testimonials and case studies to show that you will be dealing with right team. We use holistic approaches to make successful campaigns for our all clients. so, for grow your business book an appointment with our  SEO expert which help you to find best solution for your business!! Join over 200 clients that trust Platinum SEO services with their organic SEO need.
Platinum SEO Melbourne can help you with
SEO
Increase your organic website visits on search engines such as Google and Bing.
CRO
Bridge the gap between website visits and conversions with the help of our Conversion Rate Optimisation services.
Google Ads
Need immediate leads at a low investment, then Pay Per Click is for you.
Web Design
Use User Experience (UX) website designs to present your brand.
Youtube
Get personalised applications for streamlining your business processes.
Facebook
Enhance your customer reach with the help of a well-planned social media strategy.
Find Our
Digital Marketing
Services Difference
Find out more about our elite solutions. We are more than just another digital marketing agency.
For more information call us on  1300 621 683
We Help you to dominate market
Increase revenue
Platinum SEO Melbourne will help business to increase revenue through our holistic SEO process. For increasing revenue, we are helping google to find your content, reading important JavaScript, using wisely website internal linking, we make you're your pages load faster, grate mobile experience and write descriptive description, titles and heading for all web pages. All this will help to get high rankings, more traffic, more leads and more sales
Increase sales
Yes, Our Platinum SEO Melbourne based SEO team will help to generate more qualified leads, attract more traffic that will help to convert that traffic into sales. SEO is very cost effective, but it is up to you to create proper strategy to suit your business that does those things. SEO is one the best practice to maintain your web presence.
Increase traffic
Tailor made SEO process and find out related search terms that people are using to find your business will help you to increase your targeting keywords rakings through SEO. Increasing your main keywords from page 10 to page 1 will help to get more click and result of that you will get more traffic for those keywords.
Competitor analysis
Competitor analysis is most important things when you start any new project. Our dedicated team do competitor analysis for your project through trusted SEO tools such as ahrefs, SEMrush, MOZ etc. based on the research we will create tailor made strategy for your business to help to outrank your competitors from web presence and get better result for all services.
Brings the new opportunity
Holistic SEO approach will always find a manner of discovering and leveraging new opportunities for your business, no longer just be discovered, but to shine. Offering Holistic base approached to business means submersing Search engine optimization team in everything that is that emblem. SEO helps to increase your brand awareness through online organic result. The Better brand understood help to increase more opportunity for business to get more clients.
We're partners
We are your partner for your online marketing services. We will update you with all information for your campaign. We will work with 100% transparency. We are here to grow your business so if you have any questions or any issue, we have dedicated account manager for you campaign. You can send your query any time and our dedicated SEO Melbourne manager will contact you asap.
SEO Melbourne Case Study - Hawthorn east dental
65.90%
Increased organic traffic
70
New patient every month
80+
Keywords on google page #1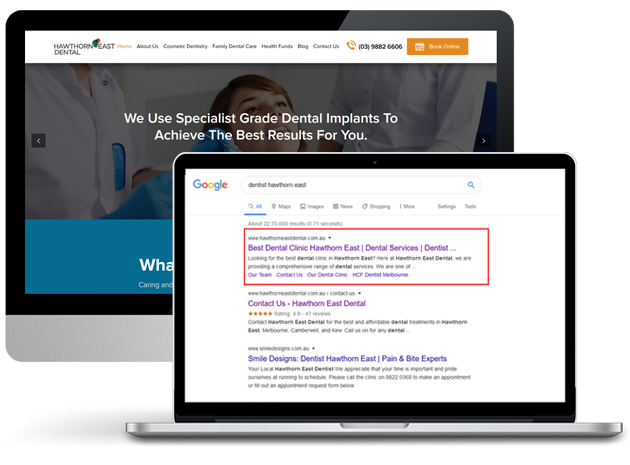 Why Platinum SEO services
At Platinum SEO Services Melbourne, we use white hat search engine optimization (SEO) strategies to help all our clients rank their website organically and ethically. We have more than 12 years of experience in digital marketing services across Australia.
We do not just focus on getting you on the first page of google with organic results. We at Platinum SEO Melbourne help our all clients to achieve higher conversion rates and improve User Experience and User Interface design.
We have a certified dedicated team which helps to make a tailored strategy for all our clients that will not only harmonise with Google's algorithm, but it also helps to drive sales and leads too. Our Melbourne SEO team will do monitoring and real-time reporting for all clients every month.
Our SEO Services Process
Step 1: First Meeting
Project discusses
Our dedicated salesperson will find out your goal for business and services you want from Platinum SEO Melbourne
SEO Audit
We create baseline of current website SEO performance based on analytic and on-site and off-site factors. This Audit will include a categorized keyword research based on providing services.
Website Audit
This a technical audit states the current status of the website in terms of Google and SEO friendly. It includes all the current issues having with the website like speed, website security, headings, content.
Keywords research
We do keywords research based on services provided by clients. We provide about 300 to 400 short tail and long tail keywords related to business.
Step 2: Strategy
Content Strategy
After signing the clients, first thing we define the proper strategy based on the competitor campaign research and targeting keywords.
Keywords Selection
Based on the competitor research and search volume we do selection of right keywords which help to increase organic traffic and revenue for the business.
Keywords Mapping
After selecting keywords, we use them to create keywords mapping documents that will show you the title meta, Descriptions, and headings of the all targeting and non-targeting pages.
Google My Business
We also set up proper google my business account for all our clients with correct information which helps to increase visibility on top pages.
Step 3: On-site Optimization
Technical Audit
After the keyword mapping document is complete, we do a technical audit on the website to ensure that all elements are match perfect. This audit will include all about speed, security, meta title, description, headings and other issues.
Technical implementation
After technical audit approval from the client side we will start to implement all required information. This will help to optimize google and SEO friendly websites which also help to increase organic traffic and more lead generation.
Step 4: Off-page Optimization
Content creation
Every month we define proper on-site and off-site content strategy for business which help to increase a brand awareness, popularity of website and domain authority.
Link Building
Through the content marketing strategy, we plan to get good back links from high DA PA websites which help to increase referring domain and domain authority of the website.
Strategy review
We also review and monitor our strategy a few times a week to just make sure we are on the right direction to get a good result.
Popularity of the site
We do monthly base off-site activity for helping to increase the popularity of the website.
Step 5: Analysis and monitoring
Monitoring
We do review and monitor all our projects on a daily basis. Based on this analysis report we define strategy for the upcoming months. In this phase we do review of websites and SEO campaigns both.
Reporting
We are doing project reporting at the end of every month and sending rankings and Google analytic reports to our clients. We do real-time keyword ranking from google which helps us to identify where we are right now.
Here what they have said
Ghan and the team at Platinum SEO offer great service and advice. This is my 3rd attempt at choosing an SEO company and I am very happy with the results. Platinum SEO will have you ranking well in no time. Our business is called Tesla Electrical, and we are starting to see some great results. A big thankyou to the team at Platinum SEO for Increasing our client base. We see this as an ongoing relationship for many years to come

In such a short period of time Platinum SEO has got me on page 1 and my business is booming.Great SEO service, very helpful and informative as they continuously update you with statistics and the progress of your website. So affordable compared to so many others.. highly recommend !

We have used Ghan and his team at Platinum SEO for almost 6 months and they are very knowledgeable and professional to deal with. We have had excellent results from the work they have done for us with our website and search engine optimisation and highly recommend them to others.

We're a company that has been established online for a while, but we wanted a facelift for our digital presence. I'm so glad we chose Ghan and the team at Platinum SEO, they were very helpful right from the start. They made sure we were 100% happy with what they were doing and our rankings improved considerably afterwards. Page 1 of Google!

We were a small start-up company with a fairly small budget to spend on SEO. Platinum SEO had SEO packages made for us and our budget. I think they have something to help everyone. I would use again in a flash.

Ghan and the team are great to work with. They sit down with you and outline exactly how they're going to create higher listings for you. Then they are sure to keep updating you with reports of what they're doing and how they're going. I like the great communication style they have.

Working with the team at Platinum SEO was the best move we could have made for our business. In a short time we've gone from ranking pages back from the top of Google, to page 1!

FAQ
Why Platinum SEO is best for your business?
Platinum offers the essential combination of experience and education. Our team of SEO specialists have experience in a wide range of industries, creating bespoke solutions for a range of search engine strategies. Alongside this is our commitment to ongoing education. Not only do we ensure our staff are continuously trained in best practice initiatives, but we also ensure our clients are confident in their understanding of what SEO is, what it does, and the strength it provides for businesses.
Is SEO a monthly activity or just one-off?
While there are plenty of one-off activities you can do to see improvement in your Search Engine Ranking, best practice dictates an ongoing solution in order to provide long term results. With Google and Bing regularly updating their algorithms, and query trends dictating constant changes to higher value keywords, it's essential to see SEO as a month-to-month activity.
How long does it take you to rank a website.
The length of time it takes for a website to rank depends on a lot of factors. Are your keywords competitive? Does your domain have authority already, or is the brand entirely new? Have you ever utilised "black hat" SEO tactics in the past? On average, we see our clients ranking after around 4 months, and enjoy the increase in traffic and subsequent leads soon after.
Our SEO campaigns
Platinum SEO Melbourne offers tailored, full-service campaigns and strategies that optimally suits your needs. In order to produce consistent top rankings, we re-evaluate the strategies we take individual clients quarterly. We provide dedicated account manager for all our clients so its easy to reach any time.
Are you doing quality backlinks?
Every successful SEO campaign is backed up by the quality of its backlinks. There are multiple ways in generating backlinks, we choose high DA PA website to get quality backlinks which helps to increase domain authority for our website. Platinum SEO services mainly use the following to acquire top quality backlinks:
– Blog Contents
– Guest post
– Content marketing
– ppt Marketing
– Infographics

How much does SEO cost ?
This is usually a very common question to which we generally ask"How much do you think your business is worth investing on?". This means that each business will have different depending on your business needs which we also look at how much work will be involved in the process. We strongly believe that each client is unique to which we cannot put a set price.
Contact us for a quote
SEO benefit ?
If you're running a local business, get more recognition of your name and brand by using a local SEO company. By using Platinum SEO Melbourne, we will connect your ideal market with your website in bringing new customers by improving your search rankings for your website. Organic result will save your $$$ spending from any AdWords management.
How are SEO and PPC different ?
SEO main objective is to improve your organic search position or search rank on Google. Carefully mapped out SEO strategy will result in obtaining good quality organic traffic. This generally will take longer as the results are not instant, think of it as an investment towards a successful campaign.
Whereas PPC, focuses on investing a specific budget into advertising your website or product. PPC campaigns yield results sooner than your SEO campaign. Both are a crucial part to any marketing strategy. It is just a matter of which basket you want to put your eggs in.
How can I out rank my competitor
Outranking your competitors is a little like training for a marathon: Your ultimate result is not just about how you've performed on the day, but also the work you've put in, in the weeks and months before. If your goal is to outrank a competitor, you'll need to focus on ensuring all elements of your optimisation is aligned to succeed, and forms a comprehensive strategy. Working with Platinum puts the best coach on your team, and helps you identify a realistic goal, that might even be beyond outranking a competitor.
Do we use white hat tactics?
Absolutely. Because we view SEO as a long term solution to your marketing, it's essential for us to provide you with "white hat" tactics, to ensure no black mark is placed against your website. "Black-hat" SEO can see you penalised and your website removed from listings, which is damaging both for you and compromises our own reputation. Instead, we invest in keeping abreast of algorithm changes and aligning our tactics with approved methods.
How can I choose keywords for my business.
When working with Platinum SEO, our experts will be here to guide you on your keyword selection. We'll present to you a comprehensive report of keywords related to your service or interest, and discuss how these can be utilised as an overarching strategy. Something we recommend for all clients is to look beyond what their competitors are ranking for, and see the opportunity of smaller, more specific keywords as part of their strategy. After all, your best keywords are the ones that give you leads, and not just traffic!
Why does my website need SEO
Search Engine Optimization is what your website needs to create more visits and in turn more sales for your business. Traffic on the internet is handled by either Google or Bing and by engaging in these search engines your website will generate more visits. Facebook being our major social networking site can also boost interest in your service or product but most of us will use search engines to discover whatever information we are wanting.
Can I do my own seo
Well, if you have the time to learn everything about SEO which includes selecting specific keywords and content for your website, then you probably could. But, with the complexity and continuous changes of SEO it's a process best handled by a professional that would also know about what keywords and content to place on your website.
Do you guarantee front page rankings?
We are professionals at what we do and can guarantee that your website will be shown on the Front page of Google. Search engine algorithms have the final say on where your website is ranked but rest assured that our methods and process can guarantee successful rankings on Google.
Can you help business recover from google penalties?
Google penalises websites that have been cheating the system or even cutting corners in achieving a good SEO result. Penalties will undo months or even years of work but we offer penalty assessment consulting to give you the best course of action to take, for your website to bounce back
from Google Penalties.

Will you work with ecommerce site
We strongly encourage businesses to bring their eCommerce website to use, as we have ample experience in working with them to achieve great results with their campaigns. Our team is well versed with eCommerce platforms and their constituent plugins.