Many SEO Experts hope for something better to happen with Google Search but it always comes with unexpected updates.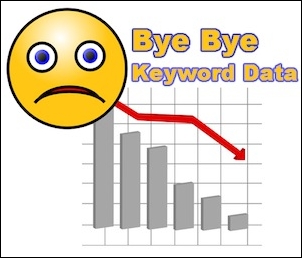 As per recent update, Google has removed the keyword data search completely.
After developing secure search, Google shifted all searches to encrypted searches using HTTPs. This shows that keyword data will not reach to site owners any more.
These encrypted searches restrict keyword data to be passed to the websites and this reduces the ability to keep a record of users through their keyword searches.
Effects of Keyword Data Removal:
For some website owners this has become a trouble as they are unable to differentiate users through keywords. In order to check this update from Google, an experiment was performed where SSL encryption was added for signed in users and this was done to check the type of extra protection given to the unsigned users.
From this experiment, it was concluded that when any user is not logged in or is browsing via incognito mode and uses http website then it directly gets landed to the https website version where the user's search is encrypted and all keyword data is removed.
But, keyword data from other search engines is used and sent to the website owners. So, in order to align yourself with Google's latest updates, it is necessary that you frame your SEO strategies accordingly.
In order to get the relevant SEO strategies framed that help you to meet the Google updates, it is necessary that you must have a good experience in the SEO field and in some cases you can hire SEO experts that are well experienced and good at understanding Google updates.
Conclusion:
For more details about Google updates and SEO strategies, you can get in touch with well known Melbourne based SEO companies. One such reputed firm is Platinum SEO, where you can get proper guidance related to SEO keeping in mind your business, Google updates and personal experience in the field.
So, be alert and stay alert to the Google updates to make changes in your SEO strategy accordingly as this will help you to save from huge losses your website can suffer due to utilization of improper SEO techniques.