We constantly keep discussing about the ways to remove piracy and we think most of the efforts are just made on paper and no practical work is done. So, here we are sharing with you some good news from Google for people who wish to reduce or remove piracy permanently.
Finally, Google released its piracy updates to fight against it and filtered its system again. Let's have some brief knowledge about this latest Google update.
Pirate Update is the system that punishes the websites which violate the copy right policies, rules and regulations. This was first released in 2012 and now again it is refreshed with new offenders that clean up their acts.
Recently a new pirate update launched called Pirate 2 which will come into action from next week along with new editorial formats.
What's included in this Pirate Update 2?
Pirate update is same as Panda or Penguin which acts like a filter. All websites are processed through this filter in order to check their piracy level. Any website that is found violating any copy right laws or rules then it is automatically downgraded.
This downgrade continues till the time the website is processed again. Websites with very less or no complains can get their ranks back. This is just a simple idea. The exact working of this update when it re-runs is not yet known.
Old Pirate System:
According to Google, several attempts are made to remove piracy but very few of them have become successful. So, a Pirate system filter was made in order to maintain that system. The main thing is that Google never re runs its pirate updates and this is one of the reasons why its draw backs are not yet known.
Now, it seems that Google is paying proper attention to this Pirate filter which was neglected many years back.
New Ad Layouts:
Recently, new ad display was launched by Google in response to the thousands of queries by many people who try to download things from pirated sites.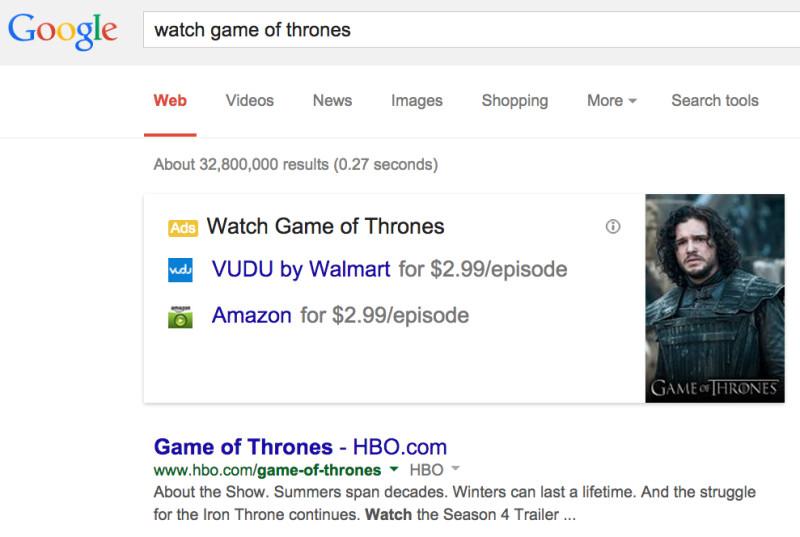 From this picture, we can see that the first listing is from hbo.com. Here, with its new update Google will try to point its visitors to the original content which includes publishers purchasing advertisements.
Another inclusion is of new sidebar display especially for movies and musicians which is as follows:
This is the thing that Google wanted to introduce years back and finally did.
The last but not the least and the most important update is Google's auto complete feature. This suggests search terms or we can say provides predictive text as soon as someone types a search query in the box. As per this update only those terms that will provide original content will be shown by Google.
Wind Up:
We are sure that with this new Google update, you will definitely be aware of its use and now will stay alert to apply any techniques that tag your website as pirated one. Be careful and strictly adhere to Google's guidelines for your website instead of getting caught by Google's several updates. Get in touch with Platinum SEO, SEO provider in Melbourne to get best SEO strategy developed that is as per Google's guidelines.