So, what is the condition of link building in 2015? Is it dead or alive or outdated? No, Link building is not dead; it is still working and depends on three main factors- page authority, links as well as anchor texts.
These are generally dependent upon the quality as well as quantity of the inbound links. With link building; one can easily get higher rankings and so it is even adopted today by many SEO firms as a part of SEO services provided by them.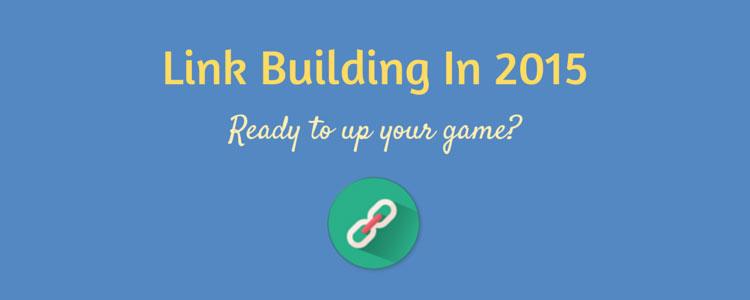 Yes, Google restricts improper links but also encourages useful links. Here, we are going to discuss about the myths about link building as well as the caution to be taken while using link building techniques.
Yes, Link Building works but how, let's see:
Backlinks are considered as the best part to get links but how can these be used in a proper manner. Yes, it is true that links are necessary to get higher rankings and here's how we can use links in the best possible manner so that they can yield proper results as well as generate sufficient amount of traffic as well as rankings.
If we talk about previous times then link building was the main source used to get maximum rankings but if we talk about present then it is considered as the last option, the reason is a belief that link building is restricted by Google.
Yes, it has now become a hard job to get proper links and hence it is somewhat a risky business. As per Google's Penguin Algorithm, link building is really an activity that includes heavy risk. So, now while developing links one has to take care to avoid spams such as keyword stuffing, link schemes, doorway pages, paid links etc.
If not used properly then your website can be penalized by Google's Penguin Algorithm. Several issues like anchors, velocity, quality, authority, topics, domains and other features become highly important.
Along with Google algorithm updates, it actually started charging penalties such as improper linking penalties and based on this, websites that actually started doing spammy things were highly taken into remand.
Even businesses had to pay huge search penalties that they were on the verge to close down their businesses and hence it is advisable to stay updated with Google guidelines and then perform the SEO practices accordingly.
Among all the types of link building methods, Content marketing is the most effective ones and as we all know, Google loves quality content that is actually useful to its users as this content is the thing which makes Google, atop search engine among people.
So, if you really want to try link building for promoting your business on the internet then you can easily get in touch with Platinum SEO, SEO Agency in Adelaide where experts will take care of your needs and perform SEO tactics accordingly.
Wind up;
Never underestimate the power of link building; it is still as powerful as it was before, just the need is to use it properly as per Google guidelines. So, what are you waiting for? Get started today and see how it brings your business on the top.