Lookout has become the next big vendor of malware threat protection. They have a unique approach based on a massive network of users using the Lookout app.
We met lookout first in Cologne, Germany and one of the representatives then explained to me how by analyzing installed apps they protect their device from malware. The app security vendors create app catalogs and categorize all the apps according to the level of threat. The levels include no threat, potential threat and the infected one. We started a consumer app to help users how to protect devices from malware, finding the device in case of loss or theft and taking backup of data to cloud if the device breaks or gets lost.
Storage capability of cloud platform
Photo uploads and automatic warning mail is sent in case of suspicious actions like taking out the SIM card, turning on flight mode for detection and some other premium features. Even for photo upload, cloud services like Google Drive, One Drive, and iCloud can use it for turning on the backups.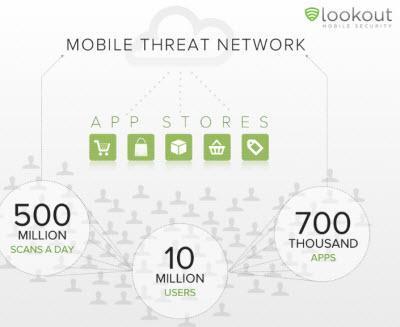 Consumers with a Lookup app on their phone can analyze the app on their phone for malware. To find malware or apps with potential risk, app data on the phone is compared. It consists of app code with app data that is saved in the cloud platform of Lookout. You can find information of more than 100 million devices over 15 million apps in the cloud.
Check infected apps with lookout
With the identification of attack, the information about the structure of the attack gets saved in the cloud. After identifying an app with similar structure, the app may be at a huge risk. Lookout engineers check if the app is infected and then the app is included in a dataset of infected apps. It uses machine learning and helps in better prediction of attacks. This way, the zero-day prediction of infected apps is offered.
An advanced and powerful approach allows this app user to use it privately. It is interesting to see how users use the installed Lookout app.
How does Lookout analyze data
It cloud analyzes data of most apps that users use. The enterprises see potential threats that might be on the network, and they get a Lookout enterprise edition to check the infected apps. If the users do not use this app, it makes sense to distribute the app via Enterprise mobility management solution for devices for finding if there is any potential threat.
Protection of threat happens on the app and operating system level. There are three products available for enterprise, and it includes Mobile Threat Protection console, Mobile intelligence center and App vetting API.
It also has integration with EMM vendors like Mobile Iron to allow secure communication between two solutions. Before an app is rolled out with the Mobile Iron, it should be checked via Lookout and the app can be rolled out to devices via Mobile Iron.
Platinum SEO points out the following benefits of the lookout and it includes data protection, support of BYOD and visibility of private devices without compromising user's privacy.