Before using the Bing Webmaster tools, preface a conversation with the below statements. By optimizing your website based on guidelines and best practices of Google, have the larger share of the market for search. I am not advocating the use of Bing Webmaster tools in place of Google search console. We would suggest you to use both the primary source i.e. Google search console and secondary source i.e. Bing Webmaster tools.
With all the things said, leveraging Bing webmaster tools is important. Many times for onboard new clients, you need to learn the reason for not setting up the Bing webmaster tools. The majority of times, the clients are not aware of the tool and it is felt that Bing is not relevant at all. Why should you pay attention to Bing if Google has a majority of shares of the market?
Here are some things that you need to consider.
Bing is a major source of organic traffic
Google is a primary source of organic traffic, and Bing is the second highest source. Bing accounts for only 20% – 30% of your monthly organic traffic. Are you willing to lose the traffic that generates leads or revenue? The answer would be probably not. The below image depicts the analytic breakdown of the client for Q1 2016 performance over the year. Bing is the second highest source of traffic, and it contributes to the overall growth of organic traffic over the year.
Bing is expanding more than ever
Do you know that Bing powers Yahoo and organic search results of AOL? Yahoo partnership has been in effect ever since 2010 and the AOL partnership came into effect in January 2016. Bing's reach is much larger than what it was reported earlier. Here are the rankings of Desktop search engine ranking from February 2016.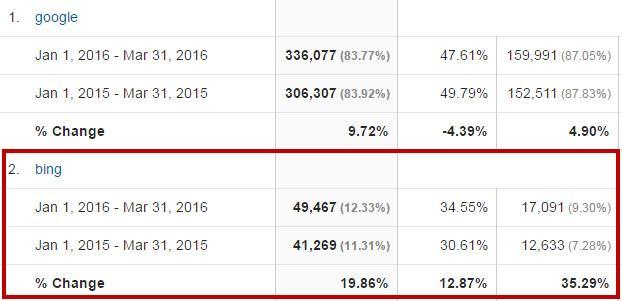 In the above image, you can see that Bing had 21.4 % share in the market, but the number does not include Yahoo or AOL numbers. Even without the Yahoo and AOL numbers, the market share has increased steadily over the years. It was 19.8% in February 2015 and 18.4% in February, 2014.
Bing Webmaster Tools offers you the unique data and tools. Bing webmaster tool offers additional site diagnostic reports and testing opportunity. This platform has features and tools that are similar to Google Search console. However, some features and tools are used for checking your performance in Bing organic search and Google missed obtaining data that.
Ways of leveraging the Bing Webmaster tools includes:
Monitoring security of site: Both Bing webmaster tool and Google search console have security monitoring features. However, neither of them are 100% perfect. Both these sources are good for reviewing security issues like malware. Malware warning on Google does not provide any detail that can be helpful whereas the warning data in Bing can be very useful.
Monitoring performance of crawl and indexation: You may sometimes see crawl or indexation performance issues in the Google search console. You may make use of Bing webmaster tool reports for getting a larger picture to know what is causing issues. It also allows you to see if it is a Google specific issue or is it a case of all the search engines. Also, keep in mind that the Bing webmaster tool reports include Yahoo data also.
Keyword research and recommendations of optimization:

Bing has two new tools in beta version, and it provides help for keyword ideas and on page SEO recommendations.

Keyword research tool is very similar to Google Adwords Keyword Planner tool. It also provides organic keyword data against the paid data.
The SEO Analyzer tool provides feedback on SEO and also recommendations for the web page that is being entered. It offers the rendering of the page source, and it is similar to fetch tool in the Google search console.
A markup validator tool is in the beta version that can be used for testing structured data.
Local SEO Syndey finds many exclusive features and enhancements in the Bing Webmaster tools. Setting this up for your site is highly recommended. To monitor both Google search console and Bing webmaster tools on an ongoing basis, you need to have more data at your disposal. This way you can get a more holistic view of organic search performance.
The Platinum SEO services provide a top notch SEO result!