As we discussed earlier, 2015 is going to be the year that will focus mainly on social media and mobile friendly websites. In this entire year, social media ads will be more important for corporate marketing campaigns.
Most of the social media marketing sites are busy in developing strategies to manage ads. As a result all corporate firms will need to focus more on Re targeting. In one of our posts, we had discussed about importance of Retargeting and how it highly influences the online marketing world.
As per an info graphic, retargeting is one of the marketing techniques for which Google has the virtual monopoly with 91% market share. Online marketing or social media marketing means to remain present on every online channel.
Retargeting is widely adopted by advertisers on various social media sites to get maximum conversions; app downloads as well as lead generation. Social media sites like Facebook offer two ways to retarget the website audiences on Facebook one is through Facebook exchange and second is through custom audiences from the website.
How Retargeting is affected by the use of mobile devices?
Retargeting can also be done with the use of mobile devices. The cost of news feed ad impressions on mobile is 57% as compared to that of news feed on desktop. Click through rate is 10% higher on mobile devices as compared to that of desktops.
Mobile provides 3.8% increased conversions to the current re targeting mix of web and newsfeed on desktop. Mobile is a direct way to get perfect response via promotions and content marketing. If advertising campaigns including web retargeting are displayed on mobile device then they are likely to get 29% more clicks.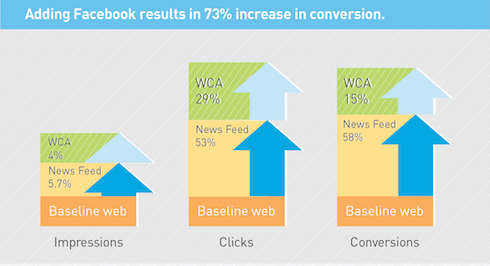 Mobile ads displayed via WCA get 8.25% of news feed clicks. Mobile retargeting marketing campaigns are mostly useful to apparel, beauty and technology industry and have the quickest adoption rates of mobile ad sizes. On the other hand, media and entertainment serve the highest performing mobile campaigns.
Retargeting can offer maximum benefits to corporate organizations and how much benefit it can give is yet to measure. Applying holistic concept to this marketing strategy results in improved return on investment generated by various marketing tactics.
Only technological approach doesn't serve the purpose. It is necessary to gain a deep insight in the needs and desires of their target audience depending on the ads they see and the advertisements they respond to.
So, we can say that Retargeting is one of the major aspects that are widely result oriented irrespective of its use in mobile device or on desktop. It allows companies to get back potential audiences who once had left the website without fulfilling the final step.
Wind Up
If you wish to know more about Retargeting and how it can be used to boost website traffic then Platinum SEO, one of the well known SEO in Melbourne is here to help you out. Get in touch with them today to widen the areas of your business expansion.