Every small or large scale business needs good marketing for the growth of the business. While social media has been very helpful for such purposes, search engine optimization (SEO) has been on the rise as a new marketing tool. The impact of using search engine optimization has proved to be quite fruitful for many online businesses and given it a boost. With SEO successfully implemented on systems, it helps increase the number or clicks or traffic on a website. It also enhances the rating of the website by displaying it on top of search engines whenever relevant keywords are searched for.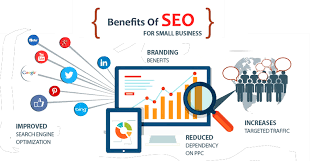 Benefits of SEO
SEO Adelaide has been widely popular with small scale as well as large-scale businesses in the recent times. Many leading companies like Platinum SEO in Australia, provide innovative solutions for marketing of businesses online. The reason SEO has been gaining such popularity can be summarized with the following reasons:
Useful for any business: Putting up business on the internet helps it reach far and wide, without keeping it restrictive to a specific type of business. A website can be created for any type of business and marketed in an excellent way through SEO. SEO is a low-cost effective method to market any and every type of product online.
Wide reach with excellent returns: As the internet is used by more or less everyone in this world, online marketing through SEO can help product reach people anywhere on the globe. This not only helps to get more business but also is a perfect way to get returns on investment made by business on marketing strategies.
Visibility and credibility: SEO works by optimizing certain keywords which are relevant to the product and website. When these keywords are searched, a search engine optimized website is displayed as one of the most relevant options. This increases the visibility of the website and its product to potential customers, in turn, increasing the credibility of the brand.
Increases site traffic: SEO helps to increase the traffic on the website by displaying it as the most relevant option when a specific keyword is searched.
Conclusion
With SEO emerging as one of the most effective tools of online marketing, various SEO Adelaide companies have emerged to offer their services. With the help of an SEO company on board, valuable traffic on your website can be greatly increased. Out of different companies, Platinum SEO is one of the renowned companies providing world-class services related to SEO to a business existing in the market. With the presence of a highly professional team of experts, customers can rely on them and expect to receive services like consultation, analytics, and assessment of their business.