In the social media marketing field, we can see the buzz is all about Google Twitter Partnership which reflects that Google will now use Twitter's real time data and tweets will also appear in search results.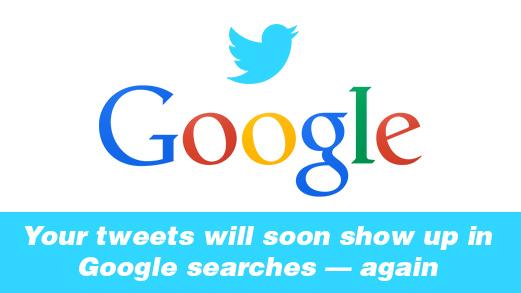 This will show depict the real time tweets on Bing as well and from now on, all business tweets including those used for marketing purpose will be aligned with Google algorithm. This will help you to spend more time in framing Productive Social Media Strategies that use high quality content as well as keywords.
Twitter is now a Treasure of Information:
Previously, a partnership between Google and Twitter was formed in 2009 -2011 that led to the birth of Google's Real Time Search.  This partnership was then ended with the disappearance of this search.
Now again, this partnership has come into existence after conducting several experiments using tweets with search results. Few of the visitors have already experienced the change in search results when they type any tweet in the search box.
Why this partnership took place?
The main aim of Google is to provide users with the relevant information and that to updated one. As per Google, Twitter is the social media that has timely updates and hence this suits the aim of Google.
So, this led to the partnership of two giants of the digital marketing world: Twitter and Google.
Will this partnership affect your business?
The question of majority of online business owners: Will this partnership actually affect their online business? And the answer lies in making proper use of Twitter as a social media channel will actually lead to increase in the rankings.
Because the more updated information you put on Twitter, it's likely to be crawled by Google. Now, digital marketers will be seen busy in creating tweets that can include keywords which will lead those tweets to be visible among top search results on Google.
Now, Twitter will be a more user friendly interface offering accurate, up to the mark data thus providing satisfactory user experience. Further, when it comes to social media; be it Twitter or any other online marketing channel, reputation seems to be an important part.
So, now take care that your business gets less negative tweets as these can also appear in search results! Be ready to adopt this change and learn to master the art of tweeting as this will definitely benefit your business a lot.
Wind up:
Twitter and Google Partnership is definitely going to have a good as well as bad impact on your business but everything depends on how you actually make most use of both of them. This means you must have the art to use proper keywords which will push the tweets up in the search results and also experts must be able to manage your online reputation in a proper manner.
So, if you wish to get the complete benefit of your tweets then expert digital marketers at Platinum SEO, one of the reputed Online Marketing Company in Melbourne will be able to help you out.