Smart phones have become the addiction for today's people and so everything needs to smart phone friendly. Keeping this thing in mind, a new invention has taken place in Boston which can be considered as a good technological advancement.
Now, for people visiting parks in Boston it has become easy to charge their mobiles because new solar power benches are available there. These can easily collect real time data about the nearby environments such as air quality and noise levels.
What are these Solar Power Benches?
A company is involved in developing more solar powered benches for Boston and Cambridge parks. This Bench is known as Soofa which is developed keeping in mind the need of people to charge their devices even when they are sitting idle.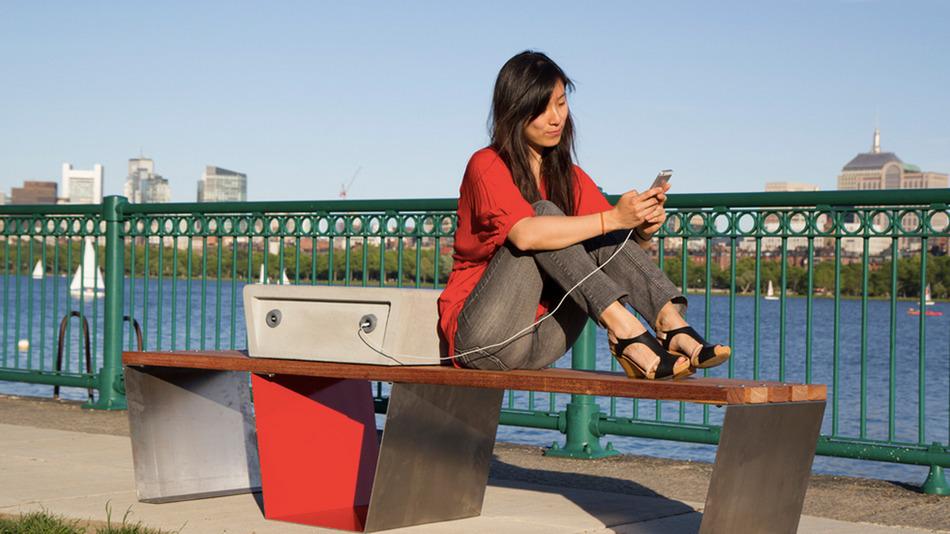 It's a kind of bench that can be used for sitting as well as charging your devices. Renewable energy is what we used to study in schools and that concept is somewhere lying at far places in our brains. Today, this concept has been applied and as a result, solar power benches came into existence.
These benches serve as the real life example for how useful renewable energy actually is. At various locations in Boston, six solar power benches are already installed and four more are scheduled to be installed in coming weeks. More than 100 solar power equipped benches are ready to be installed and as per the demand these will be utilized.
Is this project successful?
When you invent new things, people hardly support you especially when it comes to investment but in case of solar benches, the company received many requests from organizations, education campuses, retailers and cities and so the demand for these benches is increasing by leaps and bounds.
Prices vary for benches based on location like as city benches, parks have got them for $10,000 for cast iron benches and other benches are very cheaper. Smart benches are very costlier due to electronics. This project has gained good business this year and this new way of charging smart phones is most adopted by people.
And these benches really offer a good place to charge their smart phones on the go and that too relaxing on the bench enjoying the cool breeze, you can fulfill your task of charging the device.
Really a great effort by intelligent people who have used technology in a better way which can make most use of renewable energy and a good beginning which connects technology and design with environment. More such great inventions are yet to come.
Wind up:
Hope this post will be informative enough to know about latest updates in the technology field. We love to share new things will our readers and keep them informed. So, stay in touch with Platinum SEO, Mobile Apps development company Melbourne and know about such amazing inventions that can make your life easily.
Adding energy to a smartphone was never so easy and these benches have now made it too easier.