Mobile devices have now become the part of our daily lives. Be it a contact number or any video or clock or reminder or photo-shoot; mobile devices are used for all these purposes. Today, one cannot do without internet.
Instead of laptop and desktop; people prefer to use mobile devices to surf internet. Hence, the popularity of these devices has increased. Further, 2016 is the year where videos are to be given more importance.
Video Marketing in this year will be more prevalent. Instead of reading long contents, people prefer to watch videos and hence videos are demanded the most. Now, demand is the thing that is taken care of while preparing any marketing strategy.
As a result, video marketing is preferred the most. Further, videos are seen most on mobile devices. Hence, mobile video marketing has taken place. Today, in this blog post; we will discuss about this entire concept.
So, let's begin: Hey, wait, Happy Valentine's Month! Now, let's start:
Video, as we all know is preferred most by advertisers and as per the study from various media brands; slowly advertisers are changing their marketing budget from banner and display ads towards rich content format.
This is known as mobile video marketing. Display banner ads now have less number of viewers. Nearly 45% of respondents are planning to use mobile videos. Mobile videos are more engaging and hence these are cost effective.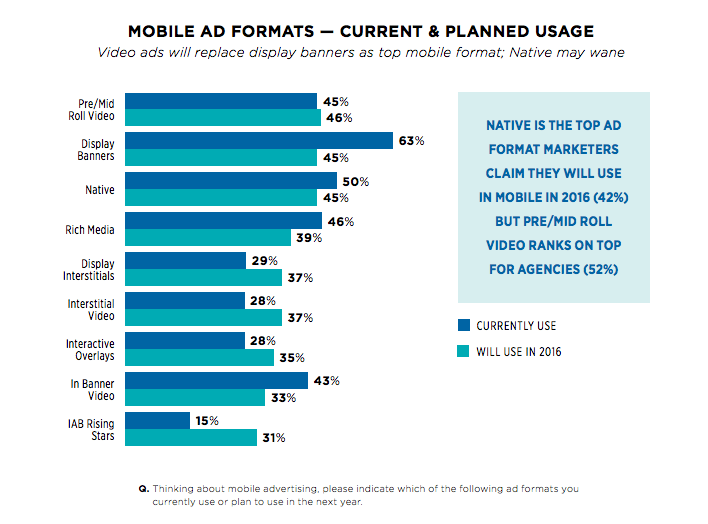 We understand that videos will drive more traffic and provide more engagement data so that one can have proper ad strategies in future. Mobile video ads are means to short term success and hence cannot be considered as a substitute for long term success.
It is just a simple form of interrupt advertising. It can differ in performance from various banners. Further, it has same qualities which boost animosity among consumers. According to an expert, videos perform better on mobile rather than on desktops.
It creates more Loyalty:
Mobile video is the ideal platform for getting prospective customers as well as offering product information and helping companies in research phase which arrived before one makes purchase. If executed in a proper way, mobile video marketing has similar advantages to that of brands that get their inbound content.
One of the strength of inbound marketing is eliminated when content is used as an interruption ad campaign. Interruption advertising creates interest among users who are very much unfamiliar and develops trust in them.
However; over use of these ads irritate customers in the same manner as that of banner ads.
We can say that the main task of video marketing is to be as compelling and engaging as one would love to get stick to it. When all efforts go in vain; the content placement doesn't matter. It can be via inbound channels or through mobile display.
Brands are always in need of such storytellers who bring in the content that can be used in videos in order to get maximum viewers and customers.
Take Away:
So, now you can also be a part of this new marketing technique known as Mobile video marketing. Do you have more points to share about this new approach? If yes, then do let us know.
Stay connected with PSEO; a well known SEO Company in Adelaide for more such updates and news about marketing. So, stay tuned!