Saw my rankings today on the internet and Alas! My website was on the eighth page! Wonder if anyone can help me to boost my online presence that too keeping in mind Google's guidelines? At present, I am using content marketing as a means to enhance my business's web presence, but things don't work out. Yes, I have also heard about Native Advertising. But am little bit confused as to whether it will be useful or not.
Are these the kind of thoughts coming into your mind? Yes, these may be if you are a beginner or just grew to an extent in your business. Yes, you might have tried several ways to increase your online visibility but how can you determine which one works for you most of the times?
You may use content marketing, native advertising, social media marketing as well as other means to increase your rankings but the important thing is to identify the perfect fit for your business. This can be done easily by comparing the ROI generated via any of the methods that you adopt.
Today, here we will discuss about the comparison of ROI via Content marketing and Native Advertising:
If we discuss about the most used methods to boost rankings then nearly 70% of people use content marketing as well as native advertising. Talking about visitors, they love to read about product content and gain knowledge instead of watching those traditional product advertisements.
But the thing is it is important to know what content formats actually yield maximum ROI and further what metrics must be used to track this return on investment. Well, before we take a look at them; we must first understand the difference between the duo which is explained briefly as under:
Native Advertising: Such campaigns are designed for brands and these are then used by well known publishers. Anytime a publisher mentions about a campaign then it will directly link back to the company.Such links boost the organic search rankings as well as provide maximum direct traffic to the firm's website. It also gets more user enhancement via social media.
Content Marketing: This focuses on maximizing search rankings, creating brand awareness and increasing conversions.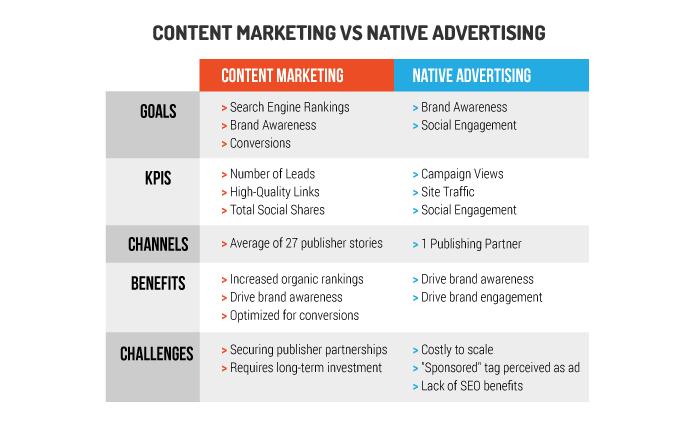 In a nutshell, the difference between the two is shown in the image given below:
Generally, three forms of content are most prevalent in the market: Articles, Info graphics and Case studies.
The success of content marketing is measured by the number of leads generated via the content published, high quality links and the number of shares on various social media sites. A normal content marketing campaign can earn minimum of 27 links and the maximum of 500 links.
Content marketing campaigns can cost up to $50,000 which includes innovative content, influencer marketing and lots more.
If we talk about native advertising then we can see that general news publishers have monopoly in the market and these are responsible for getting higher search rankings. This is somewhat expensive as compared to content marketing.
When it comes to return, we can say that content marketing is more effective as compared to Native advertising. The reason, native advertising is considered as Paid SEO technique by Google and as a result it gets less number of organic rankings.
But when it comes to click rates then Native advertising plays a leading role here.
Wind up:
Hence, if you wish to get maximum search rankings then opt for content marketing but if you wish to go for increase in conversion rates then Native advertising is your choice. Keeping in mind your need you can choose the method to be adopted and get in touch with well known firms like Platinum SEO, Melbourne SEO Services to get those methods implemented in proper manner.