Currently digital marketing is the hottest trend in the industry, it offers various job opportunities and one of them is SEO. Everyone now is aware what SEO is? So, while an interview for the job of SEO professional, candidates might be expecting some questions that must be asked.
Here, we have mentioned some of the questions that are often asked during SEO interview. This article will be useful to candidates as well as new SEO firms who are willing to hire some SEO Professionals.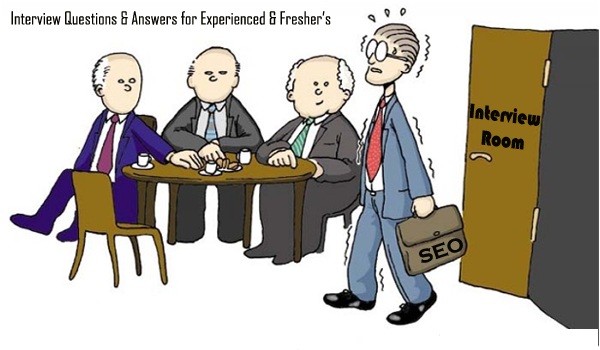 Frequently asked Questions:
Are you aware about G.0oogle Algorithm updates?Answer: With a view to develop well deserving websites with higher content rank in search results. Every few months, we can see some updates in Google search algorithms and as a result Google Top Heavy Update and Penguin Update 2012, Google Hummingbird 2013 and last but not the least Google Pigeon Update 2014 have helped Google in advancing its algorithms and this has helped many websites to get desired position in search results.
What you do understand by Google Penalty?Answer: When website search rankings get a negative impact on Google's search algorithm updates then it is known as Google Penalty. Google Penalty is a secondary product of any algorithm update which is used when certain black hat SEO techniques are implied with a view to get top position in search results.In simple terms, following such practices that go against Google's guidelines can tend to get you with Google Penalty.
What are Web Master Tools? Answer: Webmaster tools help to get back link information, search queries regarding crawl errors, indexing data etc. Webmaster tools help in maintaining and evaluating website's presence in Google search results.Various types of SEO tools: SEO tools are helpful in improving website's rankings as well as website reviews. Some of the well known SEO tools are Back link Analyzer, Domain Popularity Analyzer, Google Page Rank, Google Banned Tool, Keyword Density Checkers, Plagiarism Checker, Backlink Building tools and some others that help to do proper website SEO.
Mention different types of Ethical SEO:Certain search engine functionalities and fundamentals provide proper optimization for the websites which is offered by Ethical SEO. This helps in deciding the position of results which is long lasting and it adjusts itself to regular changes that are made in the algorithms.
Explain Cross linking and its functions:Linking one site to another and offering a way to access it is called cross linking. Certain reference sites are made available to users who are in need of the required content.The main aim of linking websites to each other is providing relevant information to the visitors by using various SEO techniques and methods. The site ranking is evaluated based on the number of relevance of sites and then it is shown in the search engine.
Say something about Google bot:Google bot is the search engine spider for Google, Spider is Google's Web crawling software which helps it to scan, find, add and index various web pages. It can visit the sites that are submitted to the index.This Google bot only follows HREF "Hyper Text Reference link that indicates the attached URL along with source links.
Wind up:
These are some of the well known SEO questions that a candidate might need to answer while applying for the post of SEO professional and companies who are new to the industry can easily examine the candidate's knowledge about SEO with the help of these questions.
So, next time be ready to choose the perfect SEO professional for your business and for candidates who wish to be SEO experts like the one available at Platinum SEO, Melbourne SEO services, these questions can serve as helping hand.