blog/Every day we come across the different type of contents that is being created specifically for the target audience. The demand for correct SEO techniques is increasing, and the underlying reason for it is increasing competition in the market. every company is trying its best to beat the competition and one of the most effective ways of doing so is by practising and following SEO. To ensure that every company and its owner are able to perform SEO correctly, we have brought forth some common SEO mistakes that every SEO creator must avoid.
SEO is becoming a revolution with more than two trillion searches happening on Google every year and in such a situation it is important to place SEO strategies in such a way that it creates a balance between customer-specific content and search engine based content. Below are some of the most common types of mistakes which is repeated by individuals practising or providing SEO services and which should be strictly avoided to achieve results.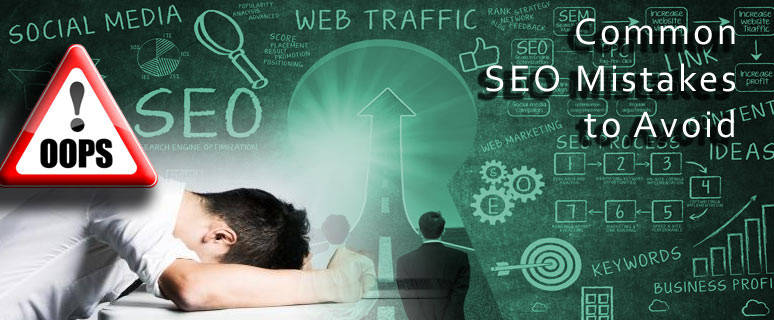 Optimize web content with single keyword
Gone are those days that SEO practice can be performed with a single keyword. The practice needs to be changed and adopted as per current technological brands. Instead, there is a requirement of using multiple keywords and placing them in the right place.
Neglected old content
Your old website may need some revamp but it doesn't mean that you need to completely remove your old website content. Instead, you need to modify your old website content with better content and usage of more keywords. It is a good opportunity to revamp your old website and look for inserting backlinks or keyword stuffing. A good way to find out is by digging out the best analytics tool or contact SEO Melbourne and discover ways to upgrade your old website content.
Site Speed optimization
One of the main concerns of any SEO enabled website is that they forget about websites speed. The faster is your website, the more will be the chances to find better crawl rate and user experience. You can make use of online website speed techniques for analyzing your website speed and also techniques like optimizing web pages, minifying JavaScript code and browser caching etc. can be chosen for best results.
Internal and external links
Links are an important part of search engine optimization. it is important for promoting your website and engaging people. You must look at the opportunity to link your website by creating valuable internal and external links. Broken or old links can often degrade your website quality and also start impacting your search engine rankings. It is important to regularly check your website links and ensure they are not broken.
Unique content missing
Unique content is important for any website and it is important to have a unique content on your website. However, if the content is not unique then Google search engine can penalize you for duplicating your content and reducing your page ranking. Thus SEO provider should be conscious about this and make sure that no such mistake is committed while performing SEO.
Not optimizing your URL or site
Many web pages around the internet miss website or URL optimization. This can create a negative search ranking for the website. In order to avoid this, you must devise short, concise and optimized website with keywords that help in creating a perfect URL structure for your website.
Conclusion
SEO is a long process and must be taken very seriously by companies. Mistakes in SEO services can cause a lot of issues with the company or website owners. It can impact brand image as well. Therefore, it is important to hire reliable SEO Melbourne Company such as Platinum SEO services. They are the most experienced service providers in the market that can be trusted upon for their outstanding SEO services.