Google Adwords seems to be a leading platform since years for paid advertising. Few days back, Google announced a massive redesign to Adwords Platform. Various brands have good reason to be excited as well as little bit nervous too.
So, what exactly happens?
As per Google's official announcement; redesign is going to roll out in three main applications:
Personalized experience: In Google Adwords, Adwords must be more about business and less about products. The company doesn't reveal anything about it but it clearly makes efforts so that it can make Adwords experience more customizable.This means new and more varied options that can be used to manage ad campaigns and organize information.
Greater access to important data: Adwords offers lots of data however brands are unable to ask the right questions for that data or collect insights that provide actionable takeaways.The new design mostly highlights important data for any campaign so that meaningful changes can be made for future iterations.
Simpler and powerful tools: Google wishes to make various processes like research analysis, report building as well as managing ad extensions in an easy manner.This includes streamlining the existing tools and introducing new simpler ones to enhance the entire process. Apart from these updates, Google shows the main functionality of AdWords which has not changed much.

All the campaigns and processes you have will remain more or less the same with the tools and interfaces surrounding the executive processes that bear majority of evolution.

Brands don't have to perform any updates or migrations for using new system. Further, the design upgrades will be in Material Design; a design language used by Google across the board for all platforms such as Google Maps and Google Mail.
What motivated Google to change the Adwords design?
Since 2008, Google had the same design for its Adwords. Just take a look in the past and you will see the look of internet in 2008 when twitter was just launched. During that time, Smart phones were new in the market, apps were quirky and voice search was not considered much as it is used now.
Most of the things have changed in these eight years and Google has taken the note of all of these changes. Now days, consumers use many devices throughout the entire day constantly shifting from one device to another.
They visit more web pages and view more videos then they have done in these eight years. Online interactions are full of micro moments and now days; users demand more of instant gratification as well as quick insights.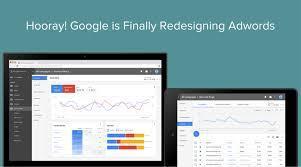 In order to make Adwords relevant for coming 15 years, Google started making several attempts like as meeting with different individual campaign managers from different sections of its user base including large corporations, small businesses as well as most experienced power users and novices.
The main goal of Google is to develop a new system that keeps all types of users happy while updating and adjusting so that it can be more appropriate for today's technology age. Google is now planning to roll these changes gradually in 2016 and 2017.
What one must expect?
At present, Google is testing its new design phase. The company is constantly working to contact individual business owners and advertisers to ask them to try out new design and then offer feedback that Google can use to make the design much better.
Google always tries to be cautious with maximum changes and hence this redesign may seem to roll out late in 2017.
Take Away:
Platinum SEO; a well known Melbourne Adwords firm has an eagle's eye on what's going on with Google Adwords and any kind of new announcements are shared with the readers.
One such you recently read in this blog post. Stay tuned for others.