Today is the world of tough competition; everyone has its eye on competitors and what they are doing. People are now blindly following their competitors and as a result, the words Copy & paste are now more famous as compared to creativity.
Since its launch till today, social media has proved to be the good source of generating online presence. Well, if you go physically to spread the word about your business, how long can you think you can work and how many people can you visit in a day. Hardly 10, isn't it?
With social media, just publishing a simple post you can reach to thousands even lakhs of people and that too all over the world. Now, just imagine how many efforts and how much time is saved with just a small social media site.
If this is the power of one social media site, imagine the power of all available on the internet. Together they make huge presence felt online and so there are pretty good chances for businesses to get the required audience.
Hence, to cut short the discussion, let's come to the point and talk over some important Social media tools that can actually increase credibility on the World Wide Web.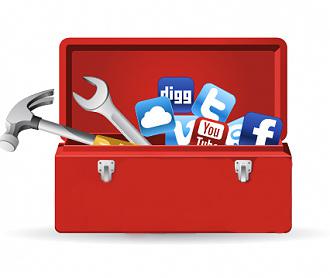 Social Media tools to increase Credibility:
LinkedIn: A social professional platform which helps people to get a career growth and for firms to get a suitable candidate. A good place where can easily present itself and promote the skills.If you have a well developed LinkedIn profile then you can have maximum followers on LinkedIn.
Facebook: Now, it has become the need of the hour; one of the widely used platform for communication. It provides the facility to have personal conversation as well as professional discussion.A good timeline image and a decent profile picture can increase the list of followers thus helping your Facebook page grow to an extent.
Blogging: The easiest way to increase credibility is to develop a blog which contains informative posts. The main aim of the blog should be to educate, inform and inspire the audience.It is one of the social tools that can make you stand out of the crowd. As per the recent statistics, 77% internet users love to read blogs, 61% make a purchase based on the blog and almost 70% get informed about any company via blogs.

So, think how powerful blogging is to maximize the reach and credibility. If you have not started it yet, start now. It's never too late to take new step in the path of progress.

Video: People love to watch and listen rather then read the stuff. A 1000 words article can be easily explained in a 4 minute attractive video. YouTube is the most well known platform when it comes to posting videos.Some video facts:

Value of one minute video is equal to 1.8 million words
50% Internet users watch atleast one video online per month
100 million internet users watch video daily.

So, we can say that videos also have a great power to influence people. Adopt them for your business and see it growing.
Wind up:
Making perfect use of all or any of these social media tools can definitely lead to a huge difference in the online credibility of any business. Yes, proper efforts and expert advice is needed to make it more fruitful. Really interested to get some more knowledge about social media and its role in increasing online presence then Platinum SEO, well known SEO Agencies Adelaide is here to lend a helping hand.