Day by day, Instagram is gaining maximum popularity as compared to when it was launched in October 2013. Today, this image sharing platform has reached to the exciting number of 300 million active users and is still increasing.
Instagram is a main social media platform which encourages brands to upload and share their most recommended visual content and this is the reason for its popularity. It has 15 times more user engagement as compared to that of Facebook.
If we talk about other social networks say Facebook, LinkedIn, Pinterest and more then on these social media sites marketers can easily use links to check the main spot of referral traffic with the help of particular marketing campaigns.
This data is then used to measure the market reach, brand awareness and also the number of conversions based on the advertisement. On the other hand, Advertisements on Instagram were used for brand awareness and leveraging people rather than for increasing traffic or sales.
New Instagram Update: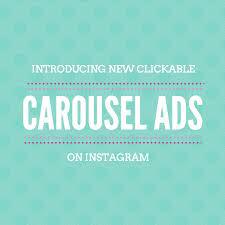 Now, Instagram has agreed to show advertisements for the purpose of increasing sales. This will be done with the use of Clickable Carousel. So, what is this clickable carousel and how can it help to the advertisers?
Clickable carousel means advertisements will now possess links that are clickable and clicking on the advertisement, viewers will now be redirected to either the company page or the shopping cart where they can purchase the product.
It's really a new update that Instagram is now allowing direct links which will motivate people to publish more advertisements on this popular platform. Brands having more number of Instagram followers can be easily benefitted from this as now people can directly purchase the product with just a single click on Instagram ad instead of typing the entire URL.
This will lead to more traffic and increase in number of buyers as well as conversion rates because this has simply made purchase easy for the brand fans on Instagram.
Who can take benefit of these Clickable Advertisements?
Clickable carousels can now be available only to advertisers and are not allowed on photo posts. Chances are there that Instagram will allow clickable videos as well but for only images can have clickable advertisements.
It's a really a good opportunity for brands to get more revenue and develop more popularity. So, if you are one of the brands eager to use these clickable carousels then here a few best practices that you must follow to maintain loyal Instagram followers:
Make use of these adverts only for marketing campaigns: It's not necessary that every post should be an advert. Use 30% images for attaching advertisement links and remaining 70% images as normal ones without any links.
Add qualitative product image: A well attractive easily visible, high resolution product image having a white background will offer a perfect look however if that similar product image is used with some object then it will be more admired by the followers.For example: A sweet girl eating the chocolate of your brand will make more impact than just an image of chocolate on the white background.Products should look real in advertisement and so images should be selected accordingly.
These two simple tips can easily help you to increase the presence on Instagram and if you are using other social sites as well for advertising then you can easily be well versed in maintaining professional presence on Social Media sites.
Wind up:
Now, no waiting. If you are an Instagram user; avail this opportunity and make most use of clickable adverts and if you are not the one then you can also create an account now and enjoy the benefits of an Instagram advertiser.
Yes, to develop a specific online advertisement strategy you can get in touch with reputed Online Marketing Melbourne Company, Platinum SEO.