Mobile apps are used to an extent. Nowdays, maximum time on mobile is spent using these apps instead of surfing internet. There are two sections of people in the society; one using Apple iOs and another using Google Android.
The later one is used the most. However Apple iOs is considered the most preferable one. Keeping this thing in mind, we decided to compare both the operating systems and decide which one is the most useful?
So, here in this blog post from Platinum SEO; Mobile App Development Melbourne; we will have a detailed discussion regarding both the systems. Hence, let's begin:
Battle between Competitors: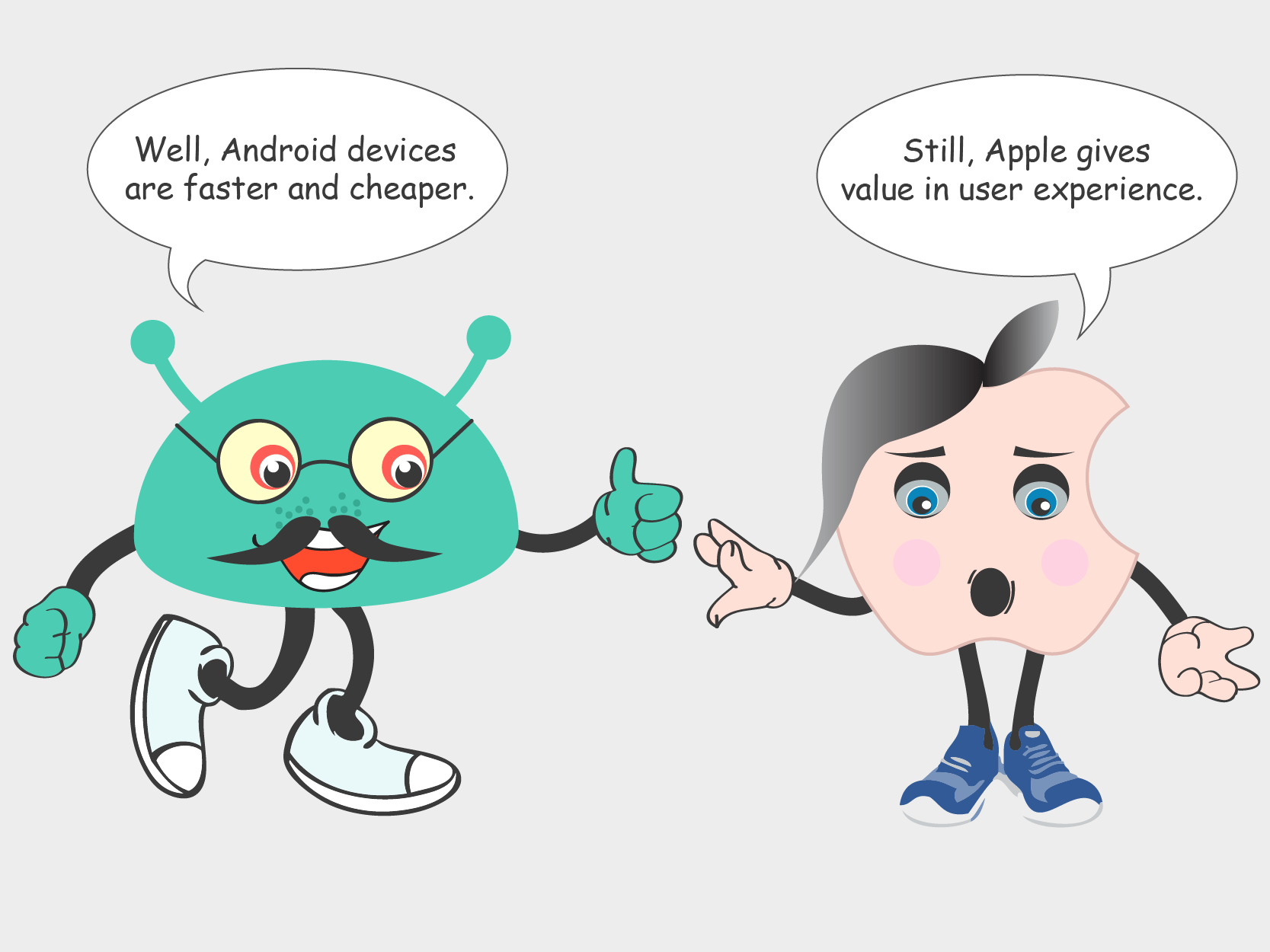 The entire mobile app market is covered by the two most well known mobile operating systems viz. Google Android and Apple iOs. Talking about Android; it has covered nearly 70% of the market share.
The rate of android users has increased to an extent and on the other hand, Apple has maintained its standard irrespective of increasing the number of users. Apple only deals with the premium class of people.
As a result, it is successful to generate profitable records during each quarter. Considering Android by Google; it may not make similar amount of profit but looking from user's point of view; it is one of the affordable option that seems to be a better choice for every kind of people.
Now, if you are asked to select any one iOs from the two; for few minutes you will be a bit confused as it's not that easy because both have its own advantages and disadvantages.
Depending on the benefits a user gets from any of this operating system, it is selected by the user. Both systems have several strong points as the reason to choose. During these years, Android has gained lot of stability in the market and on the other side; Apple is slowly moving towards flexibility.
Well, both has its own pros and cons. So, how can one choose the one among the two? This is possible if one is aware about the benefits and drawbacks which are discussed here:
Android- Advantages & Disadvantages:

Functional apps:As compared to Apple, Android is much flexible. These applications work more efficiently and effectively. Certain apps like Truecaller and Tasker don't work properly on iPhone.Each and every app is available on Android Platform. Hence, this is one of the most useful platforms for users as they can completely take the advantage of any Smartphone with most of the useful applications.
Cost of Ownership: Apple is mostly for premium sector people. iPhone is the highest profit yielding product by apple. In this case, Android fails to compete with Apple. Other iPhone competitors include Xiaomi and Oneplus.These sell smartphones similar to that of Apple's but at surprisingly lowest prices. Within the premium price of iPhone, customers can avail a completely brand new Android Smartphone.
Hardware Specialities: There are several android smartphone manufactures available in the market. Each one of them is in the process of standing out from others and so companies have to introduce new and innovative hardware features.As a result, there are several Android Smart phones available in the market having features like IR blaster that helps users to run TVs and other such electronic appliances using Smart phones. Asian people are crazy for smart phones especially those with dual SIM features. Different variants for dual SIM phones are now easily available in the market.

Talking about Apple; it has not progressed that much in terms of hardware enhancements whereas Android smart phones are now available with wireless charging, are water resistant and have double sided displays.

For example: The external design of Samsung Galaxy Edge is an amazing one that no one can resist.Talking about Apple's hardware specialities; it offers high quality iSight cameras and the most important TouchID functionality which allows users to unlock the phone as well as make payments just with fingerprints.The complete new 3D touch display in the iPhone 6S is the one that can be considered having some hardware features.

Integrating with Google: Google is solely dependent on Ads for its revenue and Apple on iPhones. Google may integrate with Apple to provide some of its services however initially it is only available with Android OS.
Allows customization: If you want to customize the iOS apps you cannot because Apple doesn't provide that flexibility while as Google's open source operating system allows users to easily customize the apps as per the need. The flexibility to customize apps is easily available with Android.
Universal Charging Port: Do you wish to have a Smartphone whose battery needs to be charged frequently? No, this is not the device you would prefer. On the other hand, you have a device which runs the entire day.Let us know your choice; Obviously, the second one. Here, Android phones are useful as these come with universal charger while Apple provides a separate cable for charging purpose.

Apple iOs- Advantages and Disadvantages:

System Updates: When using Apple iOs, the most advantageous thing is it deals with both hardware as well as software aspects. This means apple users get regular updates about their operating system.On the other hand, Android manufacturers show one major update for every smart phone. Here, apple iPhone 4S has received four major updates after its initial launch in 2011.

From then, apple continues to provide all the major updates to most of its iPhones. As a result, user can expect a wide range of new features and better performance irrespective of the need to switch to the new model. Apple is more security conscious as compared to Android.

Very less Versions: Every year you can see both Apple and Google releasing its latest mobile versions. Before the changes come to users, these are tested by manufacturers in their own Smart phones.This leads to frequent updates on different smart phones at different time lines. If we consider Apple here, there are very less versions as only few people use Apple iOS. These versions have similar screen resolutions, processors and RAM.
Easily gets synchronized with other Apple Products: Let's assume that you have an Apple iPhone, one Apple Watch and One Apple Laptop. Now, the iPhone can be easily integrated with two other apple devices as it's hardware is developed in such manner.If your iPhone is integrated with other device and you get an incoming call then also you can easily receive that call on that device without even installing any other application needed to receive calls.

Such synchronization is not yet available with Android. We can wonder and think of such thing for Android.

Regular upgrades in Hardware: Every year new iPhone is launched in the market and usually every user is updated about the same. Users very rarely switch to the latest model as they keep on upgrading their hardware with the one available with latest features.In this case, Android lacks behind because for every new upgrade; it is necessary to buy a new device. Manufacturers drive people to buy new devices if they want to use the upgraded version.
Several Creative Applications: As compared to Android, Apple apps are well designed. These apps are far more creative than those available on Google Play store. One of the reasons for this well maintained quality is the users who are ready to pay the price for quality version where as in Android most of them download cracked versions.
Wind up:
This completes the discussion here as of now. Take a quick look at the pros and cons and then it will be easier for you to decide which one to choose. If you a person who loves changes then android is for you because for every new version you will have to buy new device that supports the updated one.
And if you believe in loyalty then it's a onetime investment, just purchase the device and keep upgrading the system to latest version only if you are actually interested to do so. No need to buy new device every time.
Let us know how much useful this post was, eagerly waiting for your feedback. Stay connected with us for more such guidelines.