Google Maps is an amazing application that is used by almost all of us. It constantly keeps on updating itself with new features. Previously, we also had decided about new driving updates in this application.
It becomes easy for people to reach at any destination with Google Maps. Just type the location and you will find the ways for everything; be it walking distance, by public transport, by taxi or any way.
Also, it gives you an estimated time as to by when will you be able to reach the particular destination. Day by day; Google is making things easy for people. Hence, its usage is also increasing.
The latest updates of Google Maps include that of place review, driving directions and lots more. One more such update is related to images. Yes, Google Maps will now have 360 degree images.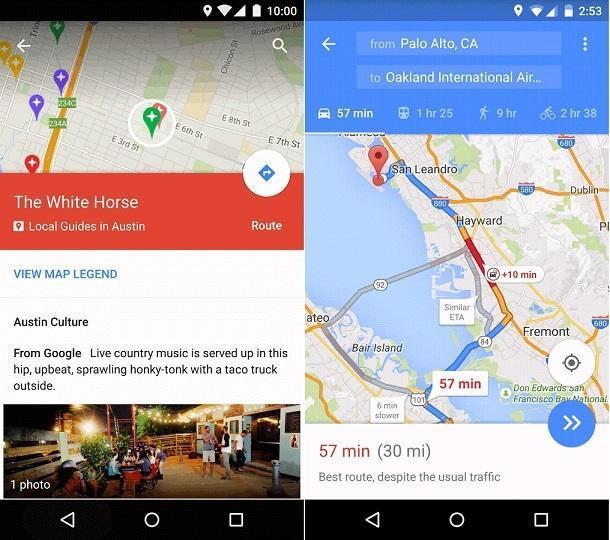 So, what's all new and exciting about it?
This update will have all the new features on its Maps on Android devices.
This latest version has an improved photo gallery for places along with 360 degree images. So, now whenever you are using this new version; you will be able to see 360 degree images for places in Google Maps.
Previously, support for various cab aggregators. One can also compare and check the ease of cab availability from Google Maps.
Google Maps v 9.23. 0 –Features :
Photo gallery will now include 360 degree images for places.
New Ride Services Tab will be available. One can compare the pickup times and prices for various cab service providers like as Uber, 99Taxis, Ola Cabs, Hailo, My Taxi and Gett.
Customized icons to give your home and work a personalized look.
You can check the distance travelled or walked. This will be displayed on the timeline.
This version is available for free on Android and Apple devices. It can also be downloaded from Google Play store and Apple Play Store.
Advanced Features:
Better Navigation notification: The navigation mode in this version will now provide notifications on the go. It offers a distinctive style that has white text on green background.

It offers an easiest way through which an app can be used while driving as well.

Time Line Event Notifications: Here, you can see your present location. However, these are based on maps own guesses hence at times the wrong location may also be posted.

Sometimes, it will also prompt you for the location and make quick correction in case wrong one is updated. Through notifications, they will ask you about the perfect one.

So, those who wish to keep a clean history, for them, this feature is the most useful one.

To use this feature; go to Settings> Notifications> Turn of Toggle

Offline Areas: This new version has an awesome feature where offline areas are downloaded automatically. This option is available to Offline Settings screen. You may find this option to be unclear however a look through some of the strings for Google Maps will tell you everything that you wish to know.

Here, Google Maps might act smarter by identifying your present areas. Hence, it is not necessarily to worry about losing navigation having poor connectivity or network congestion.
Take Away:
So, try using this new version and allow yourself to have a smooth journey. Hope you liked this post. For more such details; stay tuned to Platinum SEO; well known SEO Company in Adelaide.