Digital marketing is a field that keeps on updating constantly. Today, in this blog we will discuss about some interesting digital marketing statistics. The more we stay updated with the latest updates, the more we will be benefitted as we are aware about the current trends.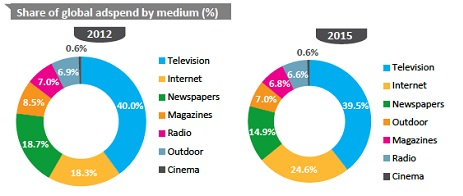 Interesting Digital marketing statistics from Last Week:
Twitter makes business successful: Certain businesses find success with Twitter videos for their twitter marketing efforts. For instance, beer brands told Adweek that videos get more engagement on social networking sites. The engagement rate increases by 14% which surpasses the benchmark rate of 5%.
Social Sites are useful to spread the news: The news about the murder of Zimbabwe's Celebrity Cecil lion spread like rapid fire with 6,72,000 tweets in a single day once the outrage started hitting the crowd. The Cecil lion hash tag gained 2 billion expressions as per the reports of Digiday.According to Standard Media Index, nearly 8 out of 10 advertising agencies saw 16% increase in digital ad expenditure during October to June. This led to $3 billion of total increase in digital ad spending.
Mobile Ad Spending: This increased by 63% every year during first six months of 2015 in France. Around 21% of digital marketing expenditure is spent for mobile ads.
New Social Network Imgur: This has more than 150 million active users which mostly include young male audience and 75% of its audience is under 35 where as 60% is between 18 -24. Brands notice these opportunities to be benefitted from maximum audience.
Twitter's Sale increased to 63%: Twitter's second quarter sale increased to 63% with increase in its user base as well.
Facebook users increased: Facebook now has more than 1.3 billion mobile users where smartphone users are more.
Increase in facebook's second quarter revenue: Facebook's second quarter earnings surpass the expectations and reach to $4. 04 billion in revenue as well as $719 million in profits.
Snap chat lovers increased: Snapchat beach towel is now available for $24.99 at Amazon. This is the perfect way to make more money with advertisers. So, now those who really love Snapchat can grab this beach towel and be perfect Snapchat fans.So, these were some of the digital marketing statistics from last week and from this we came to know that Twitter and Facebook have progressed as well as new social network called Imgur is now in the market.Huge brands join hands with advertisers to make more money such as Snapchat introducing its Snapbeach towel that is available for sale at Amazon.
Wind up:
We love to keep ourselves updated with hip n happenings in the digital marketing industry and so on regular basis we come up with some of the digital marketing statistics. Today also, we had shared with you these and we are sure this will definitely help you to stay connected with digital marketing world.
So, next time you wish to know about digital statistics then this will be the place where you will get updated data on daily basis. Stay tuned to Platinum SEO, SEO Experts in Melbourne.