2016 has been the year of innovation and search engine marketing has some of the new trends like as Google's AMP, App SEO and Machine learning. Here, in this blog post; we will discuss about these trends.
Let's begin:
So, now days we all know that searches are conducted on mobile devices and hence now search engine rankings as well as indexing is based on such parameters. Innovative Trends such as Google's new accelerated mobile pages, app streaming and searching, and improvements in semantic search with implications for publishers, advertisers and agencies.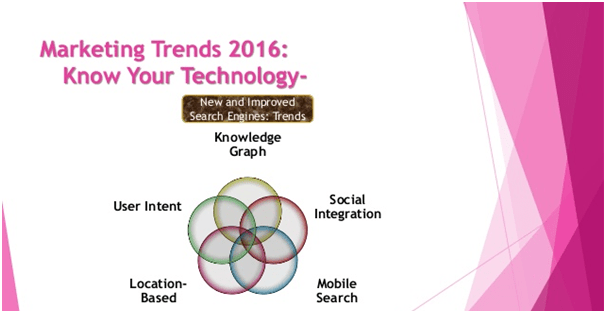 Recently, Google decided to remove the right side bar ads from its desktop version and show some of them in bottom section which shows quality over quantity. This will drive competition and will get sufficient price for those few replacements.
People are waiting for arrival of such machines that can transform artificial intelligence into search marketing especially for voice search and digital personal assistants. Cortana from Microsoft, Siri from Apple and Google Now are still at the beginning stage.
However, these are progressing slowly with the help of machine learning. We can find search everywhere. In 2016, marketers will be able to identify the ubiquitous nature of search. For this, it is necessary to know about key search trends:
Google's Accelerated Mobile Pages: Google started promoting web based news articles which adhere to the guidelines so that pages can load quickly on mobile devices. Google constantly works with several technology companies, ad tech businesses and publishers on the open source Accelerated Mobile Pages initiative.Web pages developed with AMP get loaded four times faster and consume 10 times less data as compared to those of non AMP pages. Several ad types like as interstitials cannot be used under the scheme.

The scope of these accelerated mobile pages is more than that of Facebook instant Articles and Apple News that help to make news easily accessible on mobile. Potential AMP also includes other types of contents.

App SEO: In 2016, app search will be the biggest market changer. Google is now testing the app search and hence at times; you will find content that was not available ever before. Slowly, Google started indexing app content two years back.With this, people can easily find results in the app as well as web. Till last year, the information from apps was available which included matching web content. Small group of companies like HotelTonight, NewYork MTA Subway Map will display app first content in search.

There's an option to stream all those apps directly from Google Search so that customers can complete a booking outside the app or using one click download in their phone. This serves as an indication for companies to launch app only content.

If it ruled out successfully then it will have significant implications for how app content is optimized to make sure that it ranks for mobile searches. App SEO can become new era of search engine advertising which can be used for brands in future.

Invention of Machines: Well known tech companies like as Google, Microsoft, Google, Apple and Facebook invest in various artificial intelligence systems that transform data from search algorithms to semantic systems that provide results really needed by any person.With machine learning; user's needs can be easily identified thus making sense of their location and traffic conditions. It changes the way consumers search.
Take Away:
So, with these trends; Search engine marketing has become more effective. Let us know how you liked this post and in what ways it was useful to you. Do share it with your friends if you really wish to spread the knowledge.
Stay connected to Platinum SEO; SEO Company Adelaide for more such updates about search engine marketing and various other SEO services.