Every one wishes that their business must get noticed on the internet. Google Maps also known as Google Places is a perfect way to do the same. It now has become a part of Google My Business dashboard.
This dashboard is used to manage as well as keep a track of online presence over all the Google's platforms such as Google Local, Google+, Google Analytics and Adwords. As the business listing is created; Google will then send a reminder and also it will show some businesses from the nearby communities in the "Local Search Results".
Google allows registering a firm or company only in that particular location where it possesses the physical location. If your business is well established one then there are possibilities that then it is already listed in Google My Business directory and there's a need to claim it.
Businesses with new location may need to get registered with Google My Business. So, how can your business be added to Google Maps? The steps to this are as follows:
Adding Your Business Location to Google Maps:
Go to Google My Business. Here, you need to click on "Get on Google".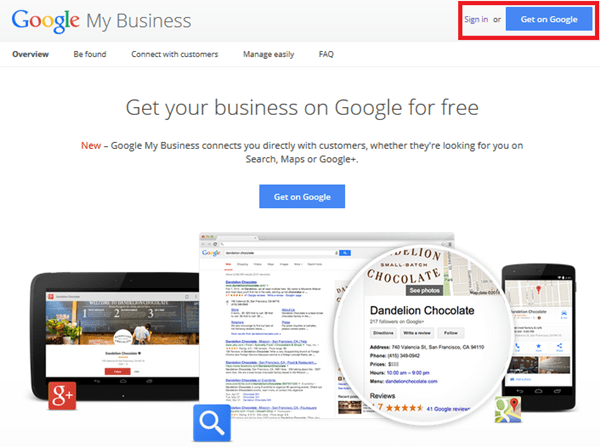 Then type your business name in the Search box. If it is available, Google will display the results and if it's not then you need to add your business.
Provide the required information. The information must be added in proper way in which we want it to appear on the web. The address that you add here must be your default business address. Hence, it is utmost important to maintain consistency.
Provide as much accurate information as you can as it will correctly classify and showcase your business listing.
How to select business category?
Only listing your business in Google maps won't serve the purpose. It is important to add it in right category. Always select the category that best describes your business. Categories are the ways that Google uses to classify the business as well as the type of search query for which the listing is to be displayed.
Google has preset categories and keywords for every industry. To know about the relevant category, one must check by typing the keywords and see whether any match is available or not and then the best one is to be selected. One can list the business into at the most 5 categories.
After properly listing the business into relevant category then it is the time to verify it. This means Google will ensure that the physical address provided by you is the accurate one and for this, you may receive a postcard at the given address with a pin verification code.
Google also provides the option of receiving the pin via text message or automated phone call. This is much easier.
Once the verification is done, business is confirmed then it's time to Create a business page on Google Plus and this is the stepping stone in Local Search optimization and must be considered of high priority by every business who is willing to get found online.
Wind Up:
Try to make most use of Google Maps for your business. You can also optimize Google business listings to get more traffic. This can be done easily with the assistance of experts. So, get connected with one of the well known SEO Experts in Melbourne, Platinum SEO; a firm that specializes in Google Map optimization services.