Organic search is mostly adopted by most of business owners. However, organic SEO reporting is a little bit of a tough task. Irrespective of its difficulty level, it's necessary to create a daily report in order to measure the success of our SEO strategy.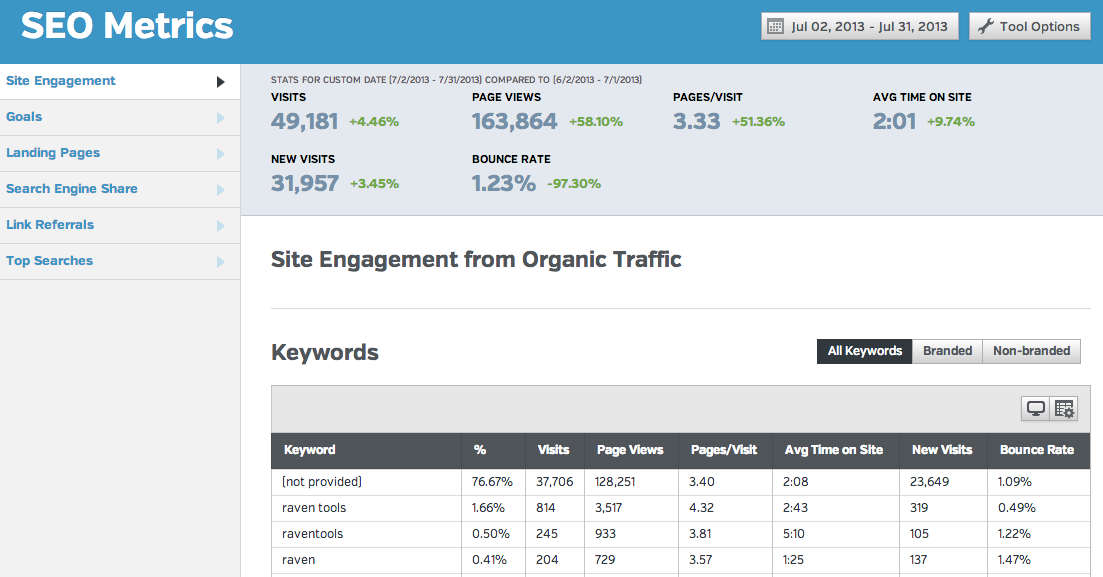 Depending on the organization and industry, SEO metrics vary. However, there are some basic metrics that must be considered while preparing an SEO report. These are as follows
Organic traffic generated via new visitorsWhile preparing any SEO report to measure the performance of any newly developed SEO strategy, the first thing one must look for is the traffic generated by new users on the site.In simple terms, it means how many new users visited our site must be the first factor to be looked upon and then-current week's result must be compared with previous weeks' to get the exact idea of any increase and decrease in the number of users.
Landing Pages with top performanceEvery time it's necessary to know how many users actually visited our site? During every week this measurement is needed to know the increase or decrease in the number of users. Then, the overall organic traffic is to be measured.The best way to measure the organic traffic is to have a look on a number of views for landing pages and whether they are driving more organic visits or not. Here, we need to check the pages that are generating organic traffic. Are they really the ones that we want to use to generate organic traffic?We also need to track the pages that are not performing well and would be used to generate organic traffic. These non performing pages will be shared with the content team so that they can be transformed into traffic generators.
Completing organic goalsCheck for the goals that were accomplished in the previous week and those that are pending to be achieved. Which pages helped to achieve the fixed goals? This will help us to make more efforts to get traffic to those pages by means through blogging, social media and any other means.Webform submissions must be tracked to prepare the organic search report in order to get a complete understanding of how organic search is used to maximize traffic, increase conversions and leads.
Domain Authority, Back linksWith this data, it becomes easy to identify the rankings allotted by search algorithms. If competitor's rankings are more then to increase ours, we need to create more inbound links from authoritative websites and boost the content marketing by generating new, relevant content that helps to get more inbound links.
SEO issues & Page SpeedIf the website is taking time to load, then it's the loading time issue that needs to be solved as quickly as possible because this will help to increase the website performance. Unknown crawl errors can hurt the organic rankings. So, it's necessary to get such technical issues solved that will help a website to maintain its rankings.
Wind Up
To measure the performance of SEO strategy, it's necessary that all SEO metrics should be up to date as this will play an important role in improving search engine rank performance. Hence, in order to maintain your SEO metrics; expert assistance is needed that can be available at Platinum SEO, SEO Company Melbourne.