Not every person is complete expert, a beginner makes a mistake as well as an expert makes the mistake. In the same way, no matter how much expertise a Digital marketer has, while performing experiments the person is sure to make mistakes and it's no wrong in doing so because we learn from our own mistakes.
So, how these mistakes should be solved? Here, we have listed few factors that can be taken care of while doing digital marketing. So, let's move ahead and have a look at them
Steps to implement digital marketing strategy in a cost effective manner
Avoid over analyzing any situationWhile making efforts to reduce the marketing costs, companies select such employees who have only basic knowledge about digital marketing strategy and with very less expertise, they are sometimes unable to handle the burden of everything.As a result, to maintain their performance they sometimes over analyze the situation and forget to consider real metrics, conversions, purchases and as a result, sometimes they miss the opportunities to create new customers or note those important performance indicators.

Be it any lead generation technique, conversion rate maximization technique or anything else, efforts should be made to apply those techniques in right direction and measure the performance every time before progressing with next step.

This will definitely reduce the number of mistakes occurred and proper implementation of digital strategy will be done.
Moving on to the next step….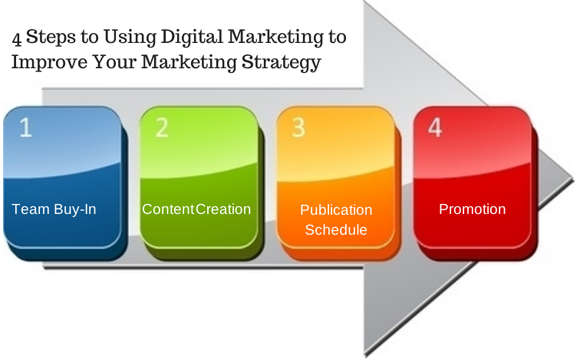 A single piece of content is insufficientWhy is content written? The main purpose of writing content is to provide required information to the readers and it also serves a good platform to stay connected with customers.However, some companies are aware about the pros and cons of content marketing and so they believe that creating simple content means just the half work done. Content marketing efforts can be measured by its relevancy, audience reach and how well it is perceived by the audience.

So, it's important to understand the level of success content marketing can provide us before actually taking it into consideration and then facing problems.

Improving digital marketing effortsFor everyone, marketing is important and so as soon as the first post is created or first video is uploaded, we are eager to know the number of views or the number of shares & likes that post or video gets.To get more views, it's recommended to post the content that is in demand by the audience. It's necessary to properly manage the audience on our social media and it's required to get the knowledge of well known social media channels and know what message will work on these channels. Hence, it becomes easy to connect with customers via digital marketing efforts.
Wind Up
Marketing world constantly keeps on changing. There are constant updates in the IT field including social and digital media. Every strategy needs to be changed earlier or later and it may be possible that the strategy that worked today may not work tomorrow.
And so the need to prepare digital marketing strategies will never vanish. Only experts can understand the changing trends well, so get in touch with digital experts at Platinum SEO, SEO Agencies Adelaide to get your trend oriented digital marketing strategy developed today.