Recently at an event co-hosted by Google, a discussion about old SEO techniques versus New SEO took place where it was said that old SEO is now slowly losing its influence and now it is replaced by intelligent smart content marketing which includes digital campaigns as well as paid advertising techniques.
As per the managing director of Eword, Daniel Nolan "Now days the meaning of SEO has completely transformed". The old school SEO which completely was based on Link building is now shifted to New SEO which consists of various digital marketing disciplines in order to get the desired results.
In previous years of SEO, having a website with links to many other websites was more than enough and SEO was all about just having a website whereas now the meaning of SEO has completely changed.
What New SEO is all about?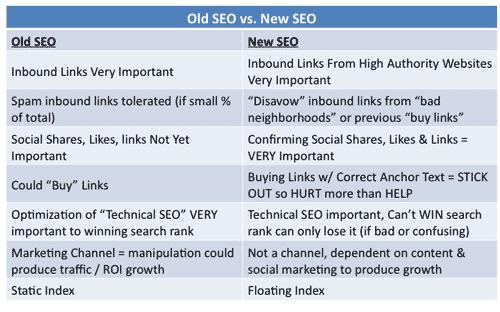 Now, search engines mainly concentrate on the quality and hence link building is not the only form of SEO. During recent years, more focus is given on quality and relevance of the content and now it is supported by other such factors like personalization, online video, content marketing techniques and more.
If we talk about SEO in 2015 then old SEO is completely taken over by digital marketing techniques. The digital marketing trends of 2015 clearly reveal that SEO is far more than just simply link building. It has been covered by various digital marketing techniques which can help business owners to get top page ranking scores, get more traffic as well as enhance conversions.
This includes content marketing strategies, social media presence, making most use of online video platforms and more. In short, now SEO is becoming more digital and it will slowly be transformed into a complete digital form with technology advancing by leaps and bounds.
So, now companies willing to optimize their website's SEO must opt for such SEO firms that excel in offering digital marketing services and help them to frame a perfect well planned result oriented digital marketing strategy.
If you closely take a look at today's SEO world then search engines mostly focus on content. Hence, good quality and relevant content is the backbone of today's SEO what previously was link building. Yes, link building is important today but what's more important is quality links that redirect users to websites having quality content which is useful to them.
Various Google algorithms have penalized websites that have poor quality links and those that redirect visitors to the sites which doesn't relate to their search results. Hence, if your website is still using that old age SEO techniques then it's now time to change and switch to the latest digital SEO or else you are likely to get badly hit by Google.
Wind up:
SEO is far more advanced now. Hence, it's advisable to update your website with the latest SEO techniques and keep it well optimized. To know more about current SEO trends and get your website optimized accordingly, you can contact Best SEO Services in Melbourne, Platinum SEO.