In April 2015, Google True ads were made solely responsible for less revenue. Slowly, the popularity of video ads is increasing however the clicks are at low cost which hinders the ability of Google to monetize them but efforts are going on to solve this issue.
Google is very well aware about the new digital ad innovation. But when the video ads were tested in different search engines; Bing was the one at the leading position and advertisers had seen improved click through rates after the use of video advertisements.
From very long time, Google has been studying the impact of video on the online world and based on its study in 2015, videos are shown more in search results and most of these videos are from YouTube.
Product videos also led to increase in shopping results. There are several brands that have experienced increase in revenue by using TrueView for Shopping.
Google started Testing Video Ads in Search Results:
From now on, if you type any search query and find any video advertisement among the search results then don't get surprised because Google is now testing these advertisements and so there are many chances for it to be displayed among the results.
No, we are not discussing about the videos related to search results but we are discussing about video advertisements. These will be mostly from YouTube. If we talk about other internet giants then Facebook has already started including auto play videos and the results are being amazing; people quickly purchase the product after watching the videos and slowly Facebook will be YouTube's strong opponent.
Similarly, Twitter also has introduced the video auto play feature. We can say here that as compared to other search engines like Yahoo and Bing who are already showing video adverts in search results, Google is too late to adopt this thing but still with YouTube, very soon it will be competing with other search engines.
And the most important; these advertisements will also be shown in Adwords. This will help to use demographic targeting in an effective manner to quickly reach the target audience. Targeting options can vary keeping in mind the age, gender as well as interests.
And this will be one of the biggest advantages of using Adwords for video as one can easily identify and control as to who can view the advertisement.
Google announced True View Campaigns:
No such update was available about this campaign but recently in September these True view campaigns were announced by Google which will now be available in Google Adwords.
With this, the company has changed its video targeting format and now it is known as targeting groups or we can say simple ad groups. This shows that these video ads have the same campaign structure as that of others and hence these are well suitable for search network.
The below mentioned image shows the difference between targeting groups and ad groups: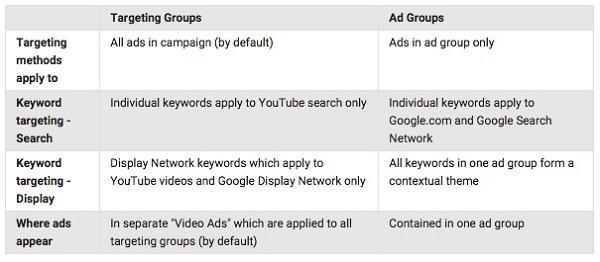 The process of launching video ads on display network is different as compared to that of traditional search network. This depends on budget for creating amazing videos as well as hiring a perfect creative team. But now, this can be easily integrated and managed with other campaigns.
Types of Ads catered by True View:
The name" True View" is very apt here as advertisers are charged only when actually the video is viewed by the user and the most important thing here is the feedback provided to the advertisers via the same platform.
Expert video marketers can easily analyze the data to enhance targeting decisions. If this data is reviewed on daily or weekly basis then one can definitely reduce the cost per view as time passes. TrueView caters three types of ads:
In Stream
In Search
In Display
Every ad works differently. So, let's understand each of them in brief here:
In Stream: Such advertisements play in the beginning, middle as well as the end of YouTube Partner videos. The ad can be skipped after 5 seconds. In case, the video advertisement is 30 seconds or long then the advertiser is charged once the ad crosses the 30 second mark. In case of shorter ads, charge is applicable only if the entire video is played.
In Search: When particular keywords are typed to search for any specific topic then ads related to those keywords are displayed. Here, user has to select the video to play it. The advertiser is charged as soon as user clicks on the video to play it.
In Display: Here, one video advertisement appears next to another on YouTube Watch Page. Again here, advertisers are charged for video being played.
So, for business owners it is a brain storming process to decide as to which video ad format will suit them and also one needs to check whether Adwords for Video are applicable to the business or not?
Let's take a look at some of the following reasons that show videos are really helpful:
Demographics: Your video must be viewed by your target audience. If it doesn't then it's a complete waste of time to develop a video and then create a campaign for the same.
Video Click Throughs: First of all here, one may not be targeting the proper audience and the viewers may not be interested in the message that the video ad actually delivers. The video ad formats must be borne in mind as if the user clicks on the video in case of in display and in search formats then you may be charged even for a single click irrespective of the users' interest to watch the entire video.
One must develop an eye catching video that delivers the proper message and for this it is necessary to know the method of developing great video.
Wind Up:
So, next time you think of different advertising ways; keep Video ads in mind. It may be little costly if hired professionals to get the video developed however this can lead to huge returns covering all the expenses.
For more such news and updates; stay tuned with Platinum SEO; SEO Company in Adelaide.