Business owners often are curious to know about the results. At sometimes, they lack patience. This is the situation faced by almost every SEO Service provider in Adelaide. The one and only question customers will have is How & when to expect the SEO Results?
On the other hand, there are many business owners who get spam promises or even guarantee for offering #1 Ranking on Google in just one month for any of the keywords used. Such claims are unethical and these can be only achieved with the use of Black Hat SEO techniques which are unprofitable.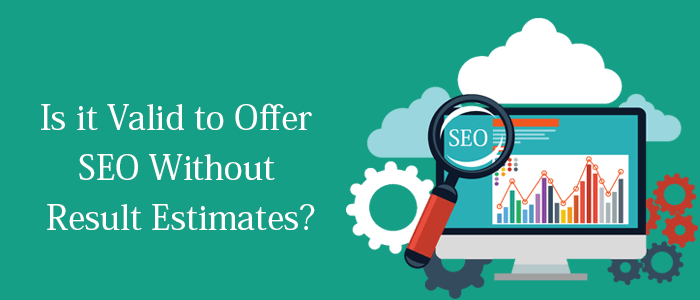 So, can such claims be achieved with "White Hat SEO" techniques? Yes absolutely they can be achieved. Well, for those who are unknown to the difference between White Hat & Black Hat SEO; "White Hat SEO is the technique that generates results by increasing website's quality to offer better search experience to its users.
Yes, it can take long time to have huge organic traffic however it is difficult to estimate SEO return as it is a long term process. As a client, you will definitely avoid black hat SEO but yes then you must be ready to spend your dollars on "SEO services without commitment".
Does this mean you must not expect Result Estimates!?
Is it not recommended for White Hat SEO Service providers to provide Result Estimates? No, this is not the case. It is not ethical to game Google and it is also not acceptable to offer services without taking responsibility of results.
What is required is to set few projection goals as every marketing channel can show results but it's not a rocket science and SEO too is just a marketing channel so here too; we need to set certain goals.
These will help the clients to see growth and improvement as these offer very important benchmarks to comply with the strategy.
Is it possible to provide more number of SEO projections?
Well, this is really a tough task as offering SEO projections is really hard and needs lots of SEO expertise. There are various factors to be considered such as search criteria, competitors, targeted keywords, search volume, present rankings as well as estimated rankings, resource availability etc.
Based on these, Organic traffic growth is to be estimated within a stipulated time frame. In addition to this, it also requires experience of having done SEO in various fields as this will only provide an estimate as to how quickly a website can grow and can generate organic traffic.
Every SEO Project is different and each of them requires a different strategy like as doing SEO for corporate website is completely different from that of an online marketplace having lots of content.
Lack of experience can actually make difficult to provide accurate SEO projections. This is the reason most of the SEO Agencies provide "generic advice" that serves to be fruitful for SEO in future.
How can one offer Accurate SEO Estimations?
Accurate SEO Estimate can only be given once you are known to all the resource factors such as data source, website analysis, industry standards and the most important SEO experience. While developing an SEO growth plan, following factors must be considered:
Approximate Total Search Volume of Targeted Keyword Segments
Present Keyword Rankings in every segment as well as anticipated ranking improvements. List of top 10 keywords that can be made top 5 or top 30 that can be made top 10 within six to 12 months.
Amount of content available at present as well as content growth plan. More fresh content means more rankings and boost in organic traffic.
Major competitors and their content volume, traffic growth history, top keyword rankings, strength and weaknesses.
Progress of similar platforms. For instance; an educational institute will want to know about growth history of other educational institutions.
Industry reports and other benchmark data. For instance, search behaviour of organic food consumption is different as compared to that of educational industry.
SEO experience in similar platforms will help you to know the time period within a website can grow.
Conclusion: Quick growth within short term is really hard to estimate however if you take into consideration all the above factors then it can help you to get a better picture of where you will be in next 6 to 12 months.
This will help to discuss SEO expectations with the parties involved and also will make it easy for you to develop a powerful SEO strategy through which you can achieve your goal. It is advisable to get in touch with one of the best SEO Adelaide firms, Platinum SEO where you can get perfect SEO projections.