Certain issues in Google Analytics lead to bad data and may even fail to understand the reports properly thus giving false conclusions. Some of these errors are caused unknowingly without anyone's fault.
These are caused due to settings, previous bugs and some wrong configuration of Google Analytics. So, how one can stay away from such errors in order to prevent bad data. Read ahead to know more…
1. Have a Constant Check on Sampling Bugs
Here, we will discuss some strange sampling issues in Google Analytics that basically lead to Bad data. Considering, the landing page report which has used advanced filter; we can see around 15k or more sessions.
When we execute an advanced segment to that report, all sessions went up to 40k which 2.5 times the previous one i.e. 15k. Below mentioned image will explain this clearly: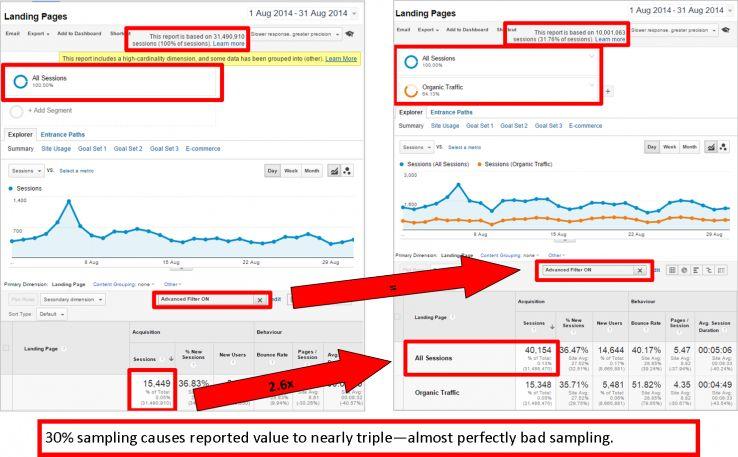 This is proved in other reports as well. As per Google, this is a system error and so they are applying their all possible efforts to solve this.
Avoid Trusting Funnel Visualization
Funnel visualization is one of the reports which is very often used by researchers and most of them love to use it. This report is easy to understand in terms of theory, practical etc. A simple unique report that reveals enormous things one would like to know about bugs.
However, the issue is sometimes it provides wrong data. We seriously recommend avoiding using this report any more for three main reasons:
Improper data
Improper Segmentation
Target planning report
Funnel reports are generally created to identify the landing places of internet users. Also, these are used to know the usage of funnel steps and checking out the total amount of funnel steps followed by any user is really hard to see in Google Analytics.
So, while using Google Analytics this report is of very less use. Let's understand this with an example:
One funnel is designed to follow step1 > step 2> step 3> step 4 >goal and one of the user arrives in the funnel via step 2, some via step 1. Let's say step 1 includes website homepage, step 2 the relevant link, step 3, form filling and step 4 – Final customer.
Now, sometimes, the link that is available at step 2 is available in search results. So, there's a complete possibility that viewers may enter your website via step 2 and then follow the remaining steps.
So, this report really is confusing to identify how many users visited your website and through which links. The only thing that can be known clearly from these reports is the entry and exit point of the visitors.
Wind Up:
This is a little glance about some errors of Google Analytics that can lead to bad data. We will be discussing more about these bugs in our coming blogs. For more details regarding proper usage of Google Analytics for your business, stay in touch with Platinum SEO, a well known SEO Services provider in Adelaide.