Yes, for some reasons; like as website's backend maintenance and more; sometimes it is necessary to take down the website. In case you are updating the complete site, then it is advisable to use 503 server status code for various SEO reasons.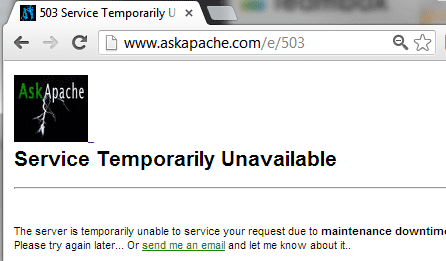 What is the benefit of using 503 Status code?
When you use 503 status code then it tells Googlebot as well as other search crawlers that the website is still available and it is just down temporarily for maintenance as well as other website related issues.
Yes, one can also mention as to when the downtime will be over and when the website will be rescheduled again. This will make it easy for crawlers to come back to your website after a particular span of time.
On the contrary, if you fail to use a server status code and just use 404 then Googlebots will consider that your website is removed permanently and this will have a very drastic impact on rankings even if your website is back again and is working smoothly.
There are times when the website gets hacked and then the owners are forced to take it down for atleast 24 hours and once it is fixed, it is made online again. But if the website fails to use 503 and continues to use 404 error then the website may face major ranking issues which are not yet resolved.
Hence, we would strongly recommend you to use 503 status code for all the requests which come from search engines as well as users. This shows that it is temporary situation and this will be resolved very soon.
On the other hand, if the server is down and if you use only 404 then the Google bot will feel that your website doesn't exist anymore and these will be dropped from the search results. So, in order to maintain the website rankings even if it is down; it is necessary to use 503 status code instead of 404. This will reduce your efforts to an extent.
So, make use of 503 status code for a specific time period in order to avoid any hardwork to build the rankings again once your website is up.
Wind up:
So, next time when you actually take your website down, make sure to use 503 status code and protect your website rankings from getting dropped. Make sure you can easily inform Google bots that for certain specific time it is offline rather than using 404 and letting them assume that your website is removed permanently.
Do you need any guidance as to how 503 status code must be used and how your site rankings can be protected if it is under maintenance then you can get in touch with Platinum SEO, SEO Company in Perth and get in touch with experts to understand the proper use of these redirects which are useful for your website.
Reduce your efforts and maintain your website wisely even if it's offline with the use of 503 status code.