Knowledge Vault is developed by Google and it is a probabilistic knowledge base Based on many learning from machines, Knowledge Vault is not only made capable to take many files and data from many sources (like human annotations, text, page structure, tabular data etc) it's also capable to take files from all data that are available on the internet. But there is one problem; on the internet are many information and files that are fake and false. So the framework is using knowledge bases like, freebase, to make sure that the fact and information are good and valid, that is only one step of the process of the assessment.
"Graph for a link prediction" is the way that researchers are using to describe this process, and they are resolving this with help of two different methods:
PRA-path ranking algorithm
MLP-neutral network model
Components of Knowledge Vault:
The main components of knowledge vault are:
Extractors– they are extracting triple from a big sets of data and it is giving trusted results
Graph based priors– these are components that are taught by knowledge bases that are already existing
Knowledge fusion– these are giving the final results that is based on a factual probability
On the graph icon is shown how we can reduce the amount of uncertainty fact, with help of combining data and knowledge bases that already existing that belong to their own extraction process researchers.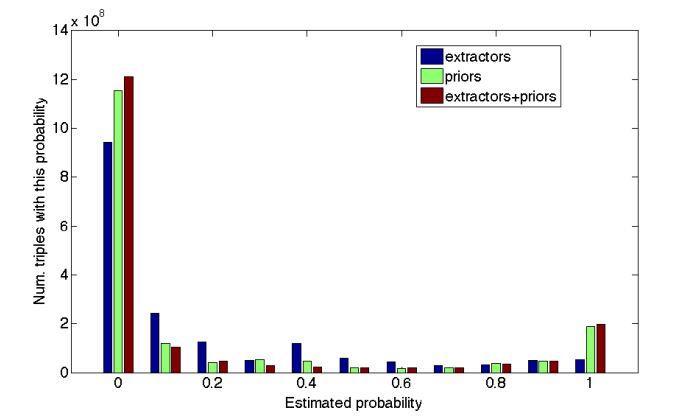 Can Knowledge graph be replaced with Knowledge vault?
One of the strongest advantages of the Knowledge Vault unlike from Knowledge graph is that design of knowledge vault is allows it to scale. For now, KV has published more than 271,000,000 "sure facts" for which is told that are with more than 90% are true facts. To list these facts published by KV, they extracted more than 1.6billions triples, 1100 kinds of entities and 4469 relation types.
The amount of useful facts in Knowledge vault is not like the number in the knowledge graph, but it's something that for sure will be changed in the future. Also maybe Google will choose to make knowledge vault automatic process. In a fact they can make it harvesting automatic component from their framework that is already existing, and with this way of working Knowledge vault can easily reach the number of use full fact of Knowledge Graph.
FACT: Knowledge Vault contain more than 1.6 billion facts
In the near future, every virtual assistant will be in opportunity to use this online database, and with help of database they can make decisions what is good and what is not good about us. Content will be more trusted and KV will help us to find content that we need faster.
Wind Up:
To opt for better SEO services in your area, you can get in touch with reputed SEO Services provider in Adelaide, Melbourne – Platinum SEO who has a team of experts to serve all your needs. Talk to them today and get benefit of latest Google updates to develop your business.