We have news from Google- the biggest search engine in the world, their new version of their Panda update is released these days. Panda update is made from Google engineers to punish websites with poor or spam content and it is not allowing them to be ranked very well in search results for their keyword or niche.
Google has informed us through their Google+ account that they started to punish websites and their new panda update will flag websites having poor or spam content. They said that without meaning of the locations, about three to five percents of the ranked websites will be punished.
This update as and other it's not different. It has to make quality websites to get on better Google positions. From Google said that this Panda update will be more precise and will be from big help for sites with high quality content which are small or medium sized to rank better.
Good News from Google for Some and Bad for Others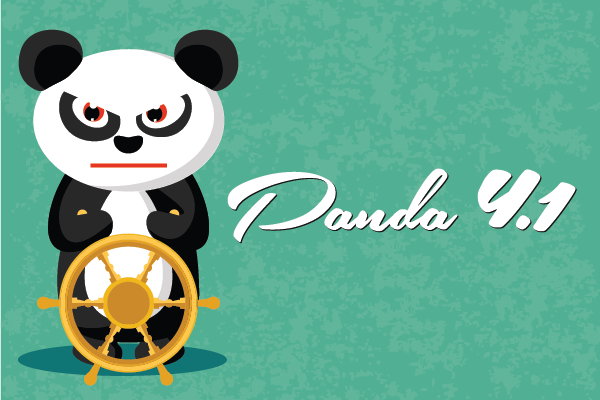 Everyone who were punished by last Panda update by Google , now can and has a way to get on the right way, it his owner or webmaster had made the changes that were necessary. So if you were penalized by Google by their last panda update, and you have made some changes to your site then you will know for one week if these changes were good enough to get again on the right way, and you will see your traffic increasing.
This also is not good for new sites that were saved from being penalized with last panda update, and then they can be punished this time. So if you note your traffic going down than you'll need to know that your site is being hit by Google panda update,.
Why It is Called Panda 4.1?
Many of us have asked ourselves something like this "Why this Google panda update is called Panda 4.1?", so the answer is here. They think that their last update was one of the biggest in their algorithm and they called it Panda 4.1, so they think that this is not as big as panda 4.0, so they called it panda 4.1, this one is coming something like sub-update to panda 4.0.
Google had made more 27 panda updates, they started in February 2011 with panda 1.0, then they introduced panda 2.0 which one had 5 updates (panda 2.1 to 2.5), then came panda 3.0 with 17 updates, and for the end is Panda 4.0 who came in at 20 May 2014 and Panda 4.1 on 25th September.
Google's latest updates were launched after 4 month of their last update, which is telling us that maybe we are in a new cycle base of a 4 month (quarterly). Their first panda updates were updated every month.
Wind Up:
Hope we are able to give you some good details about Google's latest Panda 4.1 update to search algorithm. To get your SEO strategy prepared as per latest Google updates you must get in touch with well known SEO services provider in Melbourne, Platinum SEO – a real door to success in the field of SEO.