It is nearly impossible to drag a reasonable traffic from an unrecognized blog having engaging content. Every new blogger usually does not invest impressive budget to make the blog famous and popular, so the best way is to take the advantage of social media that is undoubtedly more reasonable and completely free approach for the promotion of your blog.
In recent times, the popular social networking sites have an incalculable number of active users who take the services of social media platform to connect with other users, share and seek information, express opinions, and entertain themselves. So, for a new blog writer it is essential to act fairly and show the rest of the world its capabilities.
With these simple steps, one can easily market its blog using social media
If you do not possess an account on any admired social media platform than as an initial step, you have to set up an account by creating Twitter, Facebook, Google+ and LinkedIn profiles. If you already have an account on famous social sites and you feel that you have the huge readership and high-quality content, then you should add Pinterest, Tumblr, and Instagram.In the process of creating your profiles you have to be very sure in linking and referencing your blog. The only objective is to confirm that the viewer that contacts to your site should be aware of your profile and gets an easy access to your blog.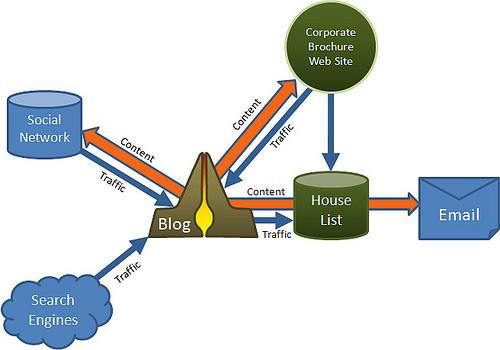 You can adjoin social media widgets and effective links to these accounts on social media platform to your blog and your email signature. Just like buttons you have at the top and bottom of your post, you can add a Tweet button, Facebook Like button or Google+1 button on your blog post.You can also append social media share buttons from AddThis.This way your readers can allocate your blog posts in their circle. By adding social icons and profile address on business cards you can make an imposing impression on your colleagues. By remaining active in web rings, forums and chat rooms you get an opportunity to incorporate them in your signature.
You can utilize automatic sharing features while posting links to your blogs, on Facebook, Twitter, Google+ and LinkedIn.Highly recognized social media platform provide features that permit users for automatic sharing. External, third-party applications like Zapier, Buffer, TweetDeck, WordPress plug-in, and dlvr.It is some of the best options that provide perfect automation aspects to post on your online presence that save time and simplifies your social media marketing efforts. It is mandatory to post a comment or share your thoughts on Twitter or Facebook every time you participate in a conversation with another person; these comments should finally link back to your blog.
Wind Up
Remember that you will always represent your brand when you are online. Always take proper effort in ensuring that the comments made by you should be relevant, appropriate and made on time. You should be more cautious at the time of adding a link to your blog as a signature. With the help of efficient applications that are capable of automating your social media activity, you will definitely develop a system that will consistently put your blog in a limelight.
It is advisable to be in touch with well known SEO Services Perth like Platinum SEO where experts are ready to help clients at any point of time.