Social media has now become very easy to use. However, to make proper use of social media it's important to develop a well framed strategy so that social media marketing can derive proper results. Hence, here we have some tips that will show how Social media can be used effectively to make a greater impact: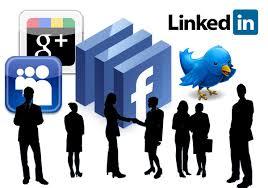 Make use of Social Media in an efficient manner:
Identify your Goal: Before developing a perfect social media strategy make sure you have a perfect goal in your mind. Some can use social media only for interacting with customers, some can use for branding purpose while some make use of social media to promote products by sharing coupons and offers.Decide the goal that is of top priority to you and then try to attain it in a given time period. With social media, one can easily measure the goal accomplishment by means of number of followers, likes and comments.
Select your Target audience: Research about benefits and disadvantages of social media. Even though we are aware that Facebook is the most well known platform among all the social media sites but still you must make sure if your target audience is available there or not.In short, select the social media site that can have your target audience may be one or two social media sites. Let's say if your product is most appealing to women and young adults among 18 to 29 then Facebook is the perfect destination for you.

If your product or service is for professionals then LinkedIn is best for you. Hence, choose the social media site keeping in mind your product or service.

Select your platform where you wish to present yourself: Before selecting a perfect platform, it's necessary to know about its pros and cons for every social media site has its own advantages and disadvantages and so it's necessary to take a look at them before actually selecting the one.Identify your customer base on various platforms like as for getting in touch with business people make most use of LinkedIn, twitter is the most recommended one when you wish to explain a huge story in few words and similarly find the advantages of other platforms as well and use them accordingly.
Your Presence should be felt: Your account should not be the one only for sake of having it, It should actually show your presence and this can be done with the help of content that matches the goals and interests of your customers.Social media's initial motive was to connect friends with each other and so it's advisable to have a conversation in informal tone but also professional. Hence, make sure to reply to their comments on regular basis as well as share inspirational informative contents with a view to increase number of fans.

After achieving certain number of loyal fans, make sure you post regularly and frequently in order to maintain their interest.
Wind up:
These small advices will actually help you to start your business on social media in an efficient manner. Hence, social media platforms are the best ways for small businesses to showcase their online presence as well as make you relevant in the huge marketing world.
Still need more guidance then best SEO Company in Perth, Platinum SEO is here to help you.