SEO is the base through which the online presence of every website can be enhanced. Every website's SEO must be checked at regular intervals. Keeping your website up to date will help you to get maximum traffic to your site.
Hence, it is necessary to conduct SEO audit and note down all the factors that serve as a hindrance to top rankings. This makes sure that the website is properly optimized. It also helps you to know those areas of your website which are to be improved.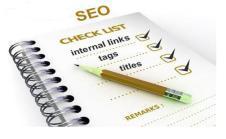 In short, conducting SEO Audits will offer you a detailed website analysis which can help to ensure that the website is as per the current trends and fulfils all the search engine requirements thus helping you to stay ahead of the competitors.
It is necessary to understand the things that are involved in the analysis. Before getting started, it is good idea to make sure that one has the comprehensive checklist of things that need an audit. There are several audit tools available in the market but still it is advisable to use audit guides and conduct it on your own if you know how to do it.
In case you lack the knowledge then you can assign the task to any well known SEO firm who can do this for you.
What one must expect from SEO Audit?
If you wish to hire a professional SEO firm who can help you with your SEO audit then you must be aware of what to expect from them. The most important element of the analysis is to review the website's current state.
This can be seen in the form of detailed report which shows how well the website performs in search results, social media as well as external and internal links. It also provides you other such related information which is relevant to the current state of your website.
Also, the SEO firm that you hire must provide a complete detailed strategy that they will be using to perform the audits. This will also include strategies that can boost all the available opportunities and traffic sources along with keyword search.
Then the audit must include a checklist with a complete list of actions that can be used to perform in such a way that the condition of your website can be improved to an extent.
It is necessary to carry out SEO audit on regular basis. This ensures that the website is very effective and it has changed the SEO industry to an extent. This means things that worked few months ago may not work now.
The search engine optimization field gets updated quickly. So, things become quickly obsolete and hence these harm your website in terms of SERPs. Performing SEO audits on regular basis i.e. twice per year will make sure that your website is ready to accept the latest industry developments.
Things to be included in SEO Audit:
What one must review in a website analysis? Analysis must include following:
Every page has a unique title or not.
The length of webpage title does not exceed 65 characters. It must be between 50 to 65 characters.
The Description tags must be between 150 and 165 characters.
Properly formatted URL structures.
Unique content on the entire website.
Properly formatted URLs must include relevant keywords. When you use multiple keywords, it is necessary to use hyphens. Every page must have unique URLs and must not be longer than 255 characters in length.
In order to be effective in terms of search engine results as well as user experience, the website must contain unique content. Tools like as CopyScape are useful to determine the uniqueness of the content.
Further, it is also necessary to check the content length as well as freshness. In case your website contains pages with insufficient content or no content at all then this can hurt your website in terms of search engine rankings.
It is necessary to get the website content updated on regular basis. Always try to create a schedule which will make possible to publish the content very frequently. The broken links on the website can lead to poor user experience thus reducing the website ranks.
Most of the Google Webmaster tools can be used to check whether the website contains any broken links or not. Removing these links is necessary to enhance the website performance.
Wind Up:
So, if you perform semi annual SEO audit then it can help you to determine what works and what not. It will also show you the issues that are to be fixed in order to get optimal results.
Hope you completely understood the importance of SEO Audit. Wish to get your website audited from experts? Then stay tuned to Platinum SEO; a well known provider of SEO Melbourne Services.