An online business can be marketed in several ways via online as well as offline marketing. Here, we will see why it is a smart decision to choose digital marketing over offline marketing. Generally, all digital marketing companies are not transparent in nature and so it becomes difficult to understand what they are doing.
Some digital marketing companies can even penalize your site rather than drawing real traffic by listing it on shady listing sites as well as partnering it with niche bloggers who are entirely focused on unrelated subjects.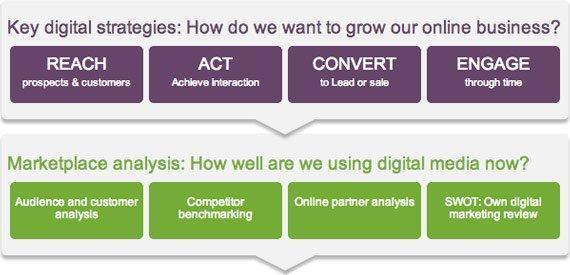 A company offers complete range of digital marketing services but that doesn't mean you have to pay for all of them. It is necessary to focus on several resources for targeted ad campaigns. Such campaigns can achieve more clear results.
This makes it easy for start ups to attain flexibility so that they can overcome the upcoming obstacles.
Make off Full Service Marketing:
In today's time; there are several digital marketing companies offering online marketing services. So, it is difficult to decide the one who is true and perfect. We all know today that digital marketing is an essential part of doing business.
This is one and the only model that can be used to meet the company's marketing needs without paying for useless services. Instead of just signing a full time contract; it is necessary to focus on several digital marketing options:
Social media campaigns: At times in order to market a complete product, it is necessary to have a decent street buzz but on the other hand it is necessary to make most use of social media services like as Instagram, Facebook and Twitter.

It is necessary to focus on a particular marketing budget as a single social media campaign can provide a perfect return on investment than using the same budget on full service digital marketing strategy.

Email Marketing Campaigns: It is necessary to have social media buzz. So, always find such firms who already have their own social media buzz. To get this buzz, it is necessary to optimize the website and then launch a customized email campaign which makes sure that a group of brand advocates turned that brand into a trend.

The email campaign can easily direct the influencers to a website that has strong user experience. As a result, the site saw a strong launch and about 62% of visitors engaged with the site for more than 30 seconds and 27% engaged for more than one minute.

Incentives and Contest Campaigns: Businesses with well known brands on social media as well as search engines must focus on maintaining customer relationships. If you offer incentives then it will boost a customer's lifetime value and the entire conversion rates for new and returning customers will increase.
Always choose an Experienced Agency:
It is necessary to trust any marketing agency especially when it comes to digital age when most of the information is easily available online. You can choose those agencies that have proven success track records. These agencies should have portfolios to show their track record. Evidence is necessary.
A creditable marketing agency hires more of the salespersons and has a single to use marketing approach that fits everywhere. Vertical expertise in every attractive form of digital marketing makes the agency eligible for giving entrepreneurs what they need.
When you start developing a marketing strategy then it is necessary to select a range of social media, email, SEM, affiliate, influencer as well as promotional marketing tactics. It is not necessary to be handled by the same team.
The resources can be optimized by creating detailed strategies for every channel and then choosing the right teams so that each of them can handle the same.
Wind Up:
Hope now it will be easier for you to choose a perfect digital marketing firm. Wish to get more of such guidance regarding effective digital marketing techniques then stay tuned with Platinum SEO; an online marketing firm having affordable SEO Prices in Melbourne.