Make your website more attractive with some animated SEO icons. These icons will bring life to the most basic web pages. These can be easily converted into any size and still will have the same clarity. These icons will animate only after you actually scroll them.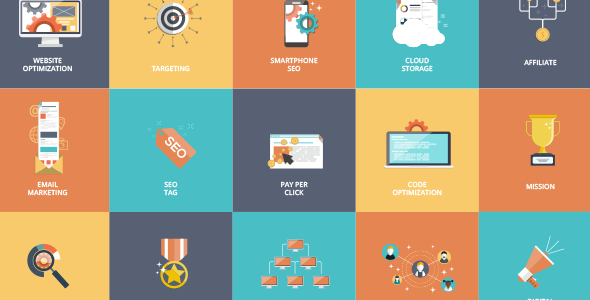 Animated SEO icons include:
Website Optimization Icon
Targeting
Smartphone SEO
Cloud Storage
Analytics
Awards
Networking
Social Media
Email Marketing
SEO/SEM
Pay Per Click
Code Optimization
Digital Marketing
Mission
Monitoring
Affiliate Marketing
How can these icons be added?
Make sure that the class name is right and then compare the size, quality of these icons.
These icons are compatible with all browsers such as Mozilla Firefox, Internet Explorer, Safari, Google Chrome and Opera Mini. They represent the services offered by you in a creative manner.
No Javascript or Flash Animations are included here. Every icon animation is totally made from JavaScript and hence don't need any browser plugins to run. These run perfectly with the use of jQuery. The reason GSAP is much smoother and faster.
Availability of Animated SEO Icons:
These are available for just US $8 with a regular license which includes the item price and the buyer's fee.
So, now make your website look more attractive with these Animated SEO icons. These scalable vector graphics will help you to get more visitors as it is one of the well known web design trends of 2014.
Features of Animated Icons:
And the main thing these are supported by most of the well known browsers hence when a website is run on any device or browser, these will get automatically resized as per the need maintaining their clarity and this will boost the users experience.
If your website is viewed on a large screen then these icons can be easily scaled upto 400% and can be reduced to 100% or less as per the need. When it comes to web design, scalability and responsive techniques are two major things that must be borne in mind.
Further, these are supported by XML format and so various image formats like JPG or PNG that consists of shapes and attributes can be saved up to a very small size. So, using scalable vector graphics benefits from website from:
Scalability
Making it SEO Friendly
Editing Ability
Resolution Independence
Beneficial Image Format
Wind up:
Make sure you use these icons and offer some amazing look to the website thus tempting visitors to visit it at least once. Hope this blog post has rendered something new to you today. To get more such amazing updates, get in touch with Platinum SEO, SEO experts Melbourne; the one stop destination for people to avail affordable SEO services in Melbourne.
Stay connected, Stay updated and benefit yourself from such amazing things which can help you to develop a dashing website entrance.