New Year is nearing and so everyone is busy deciding best New Year resolution as well as preparing plans to reach at heights. So, leaving behind the talks about what's new, what's the hidden treasure, we wish A Very Happy Peaceful Prosperous New Year in Advance to all the visitors, readers who have given us a place in their heart and because of you we are here today.
However, how can this year be peaceful and exciting if no proper plans are made? To prepare these plans, forecasts are needed. Worry not; we are here to discuss the 2015 forecasts of Social media that will guide us to prepare a perfect Social media marketing strategy thus helping us to spread a word around the world.
As per the experts, some Social media predictions for 2015 are as follows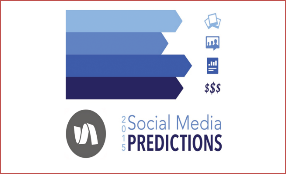 Growth of Native Advertising in Social Networks and Mobile
Brand advertising will increase via native Advertising units. However, the actual growth will be seen in common units which are easier to buy.
Growth in Mobile Video Advertising
Videos including online television channels with traditional content will be more popular. As per an Internet marketer expert, in 2015 nearly 80% of people will watch movies, videos online via live video streaming on their devices such as tablets, mobiles etc.As a result, more people will purchase these devices that allow them to watch anything they want at any time any place. What a freedom! Feels like you are your own boss. This will help advertisers to easily reach these audiences via their advertisements on these videos. The more videos people will watch, there are chances of getting maximum customers.
You Tube will be the centre of Video Marketing
In 2015, it is predicted that YouTube will be considered as main element to reach online visitors. As this is the unique destination visited by users for watching every sort of videos including motivational, spiritual, recipes, dramas, daily soaps, movies and lots more.YouTube's custom features have made it one stop destination to watch any movie any video as per the need.
Social Growth in one owns Market
As per the forecast, marketing efforts by advertisers will be made more on main social networking sites including face book, twitter, YouTube, Instagram etc. While others will focus their efforts on other related sites such as discussion forums. Further, it can also be used for broadcasting purpose as well as community involvement and development.
File Sharing will be basic need
Since last few years we can see people using file sharing via various applications like Drop box, SharePoint etc. In 2015, this trend will go ahead with more of these solutions thus making file sharing a key element.
Detailed explanation of these predictions is given here
Wind Up
Becoming aware about various forecasts related to Social media helps well known firms like Platinum SEO, a SEO Company in Australia to stay pre planned and also assist their clients in doing so in order to develop a relevant social media marketing strategy for business growth.