Content marketing is a vast field and every day, you might be searching for various ways to promote the content. Writing an amazing SEO Friendly blog post is one of the ways through which you can easily promote your business.
Yes, blog post writing is an art which one needs to master if one wants to really make it work. People must be interested to read the entire post and so the structure and text written is of utmost importance.
Help readers easily understand your post by adding necessary headings, sub-headings and clear paragraphs. If your blog post is able to get more readers then it is definitely likely to get more shares, tweets and likes to your post.
This will enhance your rankings and so in order to increase your rankings on Google; it is mandatory to sharpen your writing skills.
So, how can you write the posts that are interesting, attention gaining as well as SEO Friendly? Both these things must work simultaneously. Here, in this blog post; we have shared some basic writing tips for a good blog post: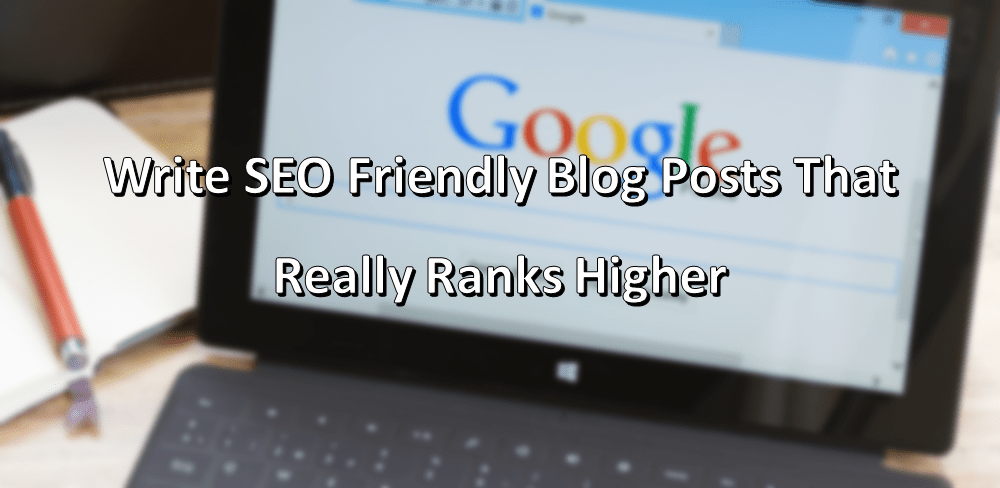 Blog Post Writing Tips:
Before we begin; one simple thing is your blog post must be written in effective and attractive language (attractive here means the one that can catch people's attention). Here are some of the tips that one must follow to have a blog post that is shared the most.
a)      Think Ten Times, Write One Time: Whatever words you will pen down are going to make a deep effect. This can be either positive or negative. Always decide to use such words that will boost enthusiasm level of readers.

Write in a very simple understandable English language so that you can easily spread the message. Know the purpose of that text and also suggest readers about what is to be done at the end of the post.
You must have all the answers to these questions ready before you begin writing any post.
b)      Have a clear blog structure: Before you begin writing your blog post, it is necessary to have a clear structure for the same. Every post must contain:

–          Introduction of the topic
–          Body ( main content)
–          Conclusion (summary describing the important ideas or delivering an important message.
Jot down all the points that you will include in all these three section, you will get a summary of your post and then the real writing starts.
c)      Use Paragraphs: No one loves to read continuous text. Paragraph is what that draws the attention of readers. However, don't make paragraphs just for the sake of making them, create meaningful ones.

Paragraphs must be made for a particular reason. Each paragraph must contain a new idea or a new subject. Before making one, ask what new idea this paragraph will have.
The main idea must be revealed in just a single sentence. More sentences will need more paragraphs.
d)     Make use of headings: Headings are necessary as they help in framing the blog post. These are useful for readability as well as for SEO. Headings make it easy for Google to identify the smaller topics in a large post. This helps to boost ranking.

Along with headings, it is advisable to use sub-headings as this helps readers to read exactly what they are finding for in your article. These will help to develop a clear structure of your article.
Using keywords in sub headings will definitely add more value to it. Caution: Please don't add keywords in each and every sub heading as it can result into keyword stuffing. Include keywords randomly.
e)      Make use of signal words: These words help readers to go through your post easily and get the hold of main idea. Signal words such as "First of all", "secondly", "finally" must be used and certain words such as "Consequently", "So" give an idea that now its turn for "Conclusion".
Such words give perfect structure to your post.
f)       Read once before publishing:
Reading the post completely before it is published helps to rectify errors, typos and improper sentence formation. This will give you a perfect grammatically error free post.
g)      Keep an eye on article length: Yes, you are right. Google loves long articles but lengthy articles can draw your readers away. Minimum words for any post must be 300 and maximum 700.

Keywords must be used within 1 to 2 % text of the article. This means search terms must be used for 3 to 6 times within 300 words. This is an ideal way to write a perfect blog post.
Conclusion: Writing an effective SEO Friendly blog post will help you get good rankings. So, make sure to keep in mind these seven important tips before writing an SEO friendly blog post.
Hope this blog post will help you to get good traffic. If you find these tips helpful, remember to share these with those who need them the most. After all, it's a good virtue to help those who are in need.
Stay connected for more such informative blog posts from Platinum SEO; most recommended provider of SEO Services in Perth.