We all want more conversions but the thing is how to get them. At present, A/B testing is very common among the marketers and so you can easily choose to be a part of an experiment in web optimization at any given point of time.
If you are conducting tests on daily basis within the past few months and still don't have any improvements then you are at the right place. Many times we have discussed about A/B testing however still let's take a brief look at it and then discuss how it can be used to boost conversions.
So, what is A/B Testing?
A/B testing is also as split testing. It is a method of comparing two forms of a web page against each other to know what works better. Test A is run against a different form B of your page and results indicate the one that has highest conversion rates.
A/B testing can be used to test everything including search ads, sales emails and website copies. One can also implement new changes and boost the website conversion rate.
Conversion Rates:
When any action is performed by visitors on your website then it is known as Conversion rates. Anything that is performed on a website can be known as conversion rate like as logging into the website, subscribing newsletters and downloading the application or making purchase.
Any web page can be tested if you have conversion metrics to measure that particular page. One such example can be of testing a page where visitors leave the page quickly after landing on it without checking out any other pages on your website.
What is the need of A/B Testing?
Choosing and combining the most effective methods of promotion can be definitely used for profitable marketing results instead of doing guesswork to identify what would work for your business the most.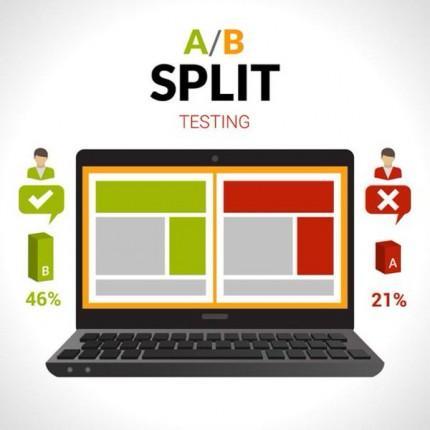 Knowing how a change affects your business performance is better than making a guess whether it will work or not.
This testing technique is used by online marketers to optimize their websites as it allows them to learn what your visitors need. It gives you a deep insight about the need of the audience. Sometimes new visitors love to read different types of content as compared to that of old visitors.
How to run a successful A/B Test?
Know where you stand: Measure the current website performance. There are various websites which measure the website performance such as Google Analytics, Web Page Analyzer.

It is yet another site which offers free web page speed test for website optimization. Redefine the goals of your website, prepare a list of things which needs to be increased or modified by viewing the website content.

Select your resource: There are several resources that can conduct A/B Testing for you. Some of these are as follows:

Optimizely
Virtual website optimizer
Vanity

More such resources are also available. But these are the most used ones.

Use Target metrics for your Website: Target metrics is a target that business has to achieve or termed as successful. If a blogger produces ten fine posts per week then whether he's on the right track or lacking performance is the thing to be decided.

This is known as target metrics. Decide the target metrics and then evaluate the performance accordingly. Key performance indicator is a metric which can be used to figure out how is one doing against the objective.

Get Feedback from Visitors: Set up surveys for visitors to fill in to find out about the problems in the website. Know the reason of their problems and get more qualitative data to get an insight about the reactions of the visitors towards the project.
Make use of Segmentation: Some of the experiments may give poor results because these are not tested individually for every segment. The experiment might be successful for one element of the website and may get failed completely.

The variation of an application's landing page may not work properly for Facebook users. But when we dig deeper into segmentation then we can say that it runs completely well for android users and fails to give results for users with Windows Phone.

Find out what you want to test: To carry out A/B testing; it is necessary to find answers to the questions which arise from various problematic pages for what do the visitors want. Why they are not motivated to proceed ahead?

Which element would you like to test first? One can begin by choosing the testing opportunities which offer huge benefits.

Selecting Pages with high traffic: Search for the pages that have high traffic. One can optimize pages which generate poor traffic. However, the fact is those pages which already perform well get tested very quickly.

In order to check pages that have poor performance, the tests need to be run for long period of time. Those pages should not be your priority. Select from the top visited pages and even those from where you are confused to choose from.

Provide sufficient time for testing: A single test to be run at a time will offer more accurate results. Hence, proper time must be devoted for testing. The results can only be accurate if proper time is given to run the test.

Have enough patience to get proper results.

Re testing the test: Keep a constant track on your performance as you always have a room for improvement. If one test boosts your conversion rate then this means you are on the right track.

No matter how better you perform, there will always remain tough competition in the digital marketing field. So, keep testing in order to upgrade your websites with latest trends.
Wind Up:
Remember these points while conducting A/B tests and always perform these tests on highly viewed pages and not on those that do not generate any traffic.
For more such updates, stay tuned with Platinum SEO; SEO Company Sydney.