A month back Google Adwords turned 15 years old in October 2015. Adwords is now widely used by most of the online businesses. Today, it is one of the popular tools that is adopted by everyone. Most of the Google's revenue relies on Google Adwords.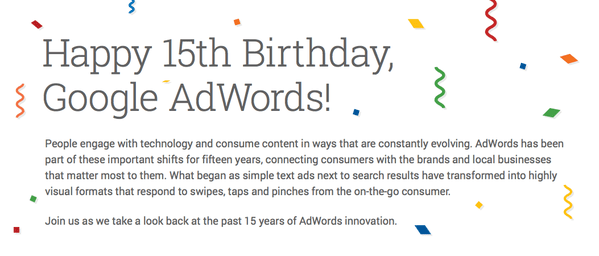 But I wonder very few people are aware of these AdWords such as when was it launched and how it has changed? Today, in this blog post by Platinum SEO; one of the well known Google Adwords Management Melbourne; we will see the history of Google AdWords as well as changes occurred there of:
When was AdWords Launched?
AdWords was born in October 200 with 350 advertisers and now it has more than 1 million advertisers which generate $65 billion yearly revenue. From then, things have changed and so here we have included some of the key factors which have transformed the way we used search over 15 years before AdWords was launched.
Journey of Adwords from 2000 to Present:
AdWords expanded globally in 2013 to target world wide audience as well as meet international advertisers. In 2000, it was available in 72 languages and now it has reached to 150 languages.
Apart from this global expansion, in 2003 site target advertising was introduced which was known as Google Display network.
After the launch of this display network, Google purchased YouTube in 2006 which lead to the rise of Video advertising. Further advancements in ad inventory led to TrueView ads which connect brands with completely engaged audience.
The video advertising then grew to an extent. During 2008, there were 15 hours of video to be uploaded every single minute and now it has reached to 400 hours. YouTube has now reached to wide range of audience from 18 -34 years old.
After the success of YouTube, Mobile transformed the game completely. Various introductions to AdWord Products concentrate more on mobile including Call only campaigns, mobile preference ads and improved mobile experience for searches.
Nearly 50% of searches over Google are conducted via mobile. It has double the growth for people searching for places with "near me" attached. 82% of people with Smartphones conduct a research using mobile devices.
The entire scenario has completely changed with the arrival of mobile devices during the last 5 years and these changes will transform the way search engine adapts and grows along with consumer behaviour.
Wind up:
Hope you found this blog post pretty interesting and became aware about the initial stages of Google Adwords. Stay connected with us for more such news and details about Google Adwords. In case you wish to get your Adwords campaign managed by experts then get in touch with us.