Again a new update by Google, now it is launch new Shopping Ads with inbuilt "Buy" button as per the report by Wall Street Journal. This new ad format will appear when users will search for products on mobile devices.
Clicking on the "Buy" button will redirect users to the Google product page which enables buyers to complete the purchasing process. Several features are offered by Google to make conversion process easy for mobile users.
Call extensions offer quick call to action button on search ads so users can easily contact the seller. Shoppers can directly deal within Google search interface however products will still be delivered by retailers whereas payments will be handled by Google and then will be passed to the retailers.
Further, product page will resemble to the retailer's eCommerce site and yes this is definitely going to take place further.
Another well known update by Google is the "Value Alert" test in Google Shopping
Google is now trying several ways to showcase great value products in its Shopping search interface. Here, the word "value alert" can be used under the Product listing Ad. An image of this test is as follows: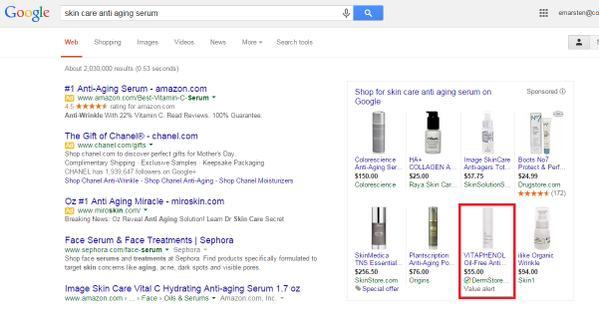 Yes, this is very expensive but it will target only those products which have size based on discount. Further, a new Adwords Editor update is also launched by Google. Adwords Editor is software that allows advertisers to alter their account details on the internet.
This includes support for product labels, upgraded URLs, ads in mobile apps and demographic targeting for various display ads. These features are included in the updated version of the Editor 11.1.
This update includes user experience advancements, search bar improvements and maximum localisation support.
So, this Google update for Shopping Ads will make online shopping, an easy and convenient experience for the online shoppers. Shoppers will find it easy to complete the checkout process and hence this will maximize the chances for people to do online shopping.
Google is striving hard to make online shopping easy for people thus increasing more number of shoppers. Now, it's time to get used to purchase products from the internet because today's is the tech savvy world where people are too much busy in their schedules that they hardly get time to go to the nearby stores to purchase the items.
This led Google to keep on update its shopping ads so as to make it easy for users to shop products online in every best possible way. If you are new to the e- shopping world, then start it with Google Shopping Ads, slowly you will be addicted and you will love to buy things on the internet from your comfort zone.
Wind up:
We, at Platinum SEO; one of the Melbourne SEO Companies love to share every single update about Google with our readers. To stay updated about hip and happenings in the online world, stay tuned with us and be a part of our huge readers community.