Digital marketers may be aware of the latest digital marketing techniques. However, very few might be aware about the dangerous digital marketing sins. Learning attitude is the thing actually keeps people alive. The day you stop learning, you are dead.
So, be it digital marketing or any other field; keep on learning everything about the subject including its benefits as well as drawbacks. We constantly strive hard to make sure that our readers must learn something from our blogs and hence today again we are back with new topic:
Must to Avoid Digital Marketing Mistakes: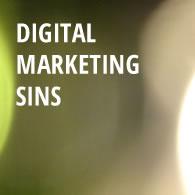 Digital marketing is a main Ingredient: You might have often seen that people consider digital marketing techniques as a side way to improve online presence. In fact, it is the main part of SEO which strongly reflects your presence on the internet.

So, it's necessary to know that digital marketing is not add on but a significant part of your business. Hence, concentrate on it to make sure that you are giving your equal efforts to it as you give to other marketing channels.

Always Continue the Process: What we often do is create our business accounts on several online marketing channels like as Facebook, Twitter and more but often we forget or feel lazy to maintain them.

It is like we have sown the seeds but we lack the enthusiasm to water them and take proper care of them so that they can grow into big fruitful trees. Hence, always continue maintaining your accounts on several social media sites instead of creating and leaving them unmaintained.

Make most use of Live Chat: You often seem to be greeted on a web page with the greetings "May I help you?" In case you wish to discuss anything then you can open the chat box and type your question, any available representative will answer your question.

Live Chat seems to be a really good idea as it offers consumers quick response and that too 24/7. But for that, you must have a chat representative appointed to answer the questions. If not, remove it quickly from the website.

Opt only the required social media channels: Every social media channel is not needed for your business. So, first do a perfect research as to which marketing channel is necessary for you and then develop a perfect plan to make most use of it.

Never do a mistake by adding your accounts to every channel and then leaving them untouched.

Mobile and Tablet optimization: Make sure your website is optimized for mobile and tablet and other such devices. We can see that mobile users are growing by leaps and bounds and hence this is one of the important points when it comes to digital marketing.
Wind Up
Keep these mistakes in mind and avoid wastage of resources as well as effort while doing digital marketing for your business. Once you are aware of these deadly sins of internet marketing then you can create an effective online marketing plan for your business.
Get guidance from experts at SEO Agency in Perth, Platinum SEO for developing perfect digital marketing strategy for your business.