Behind every internet marketing strategy; the only aim is to boost conversions because more conversions mean more customers mean more revenue. So, we can say that conversion is just not a target to be reached, it is an ongoing process. Conversion funnels are now more separated than ever before.
Here, in this blog post from one of the well known SEO firm, Platinum SEO; we are going to learn about Programmatic Advertising and know how it can be an important part of the search strategy?
So, what is Programmatic Learning?
Programmatic Advertising refers to the use of automated technology for buying inventory as well as optimizing display advertising inventory. Here is the entire workflow of an advertiser who starts working with a Programmatic Vendor:
Workflow Process:
Vendor offers a pixel to the advertiser which is to be installed on their website or landing pages.
User behaviour and search data must be collected and analyzed.
On the basis of that collected data, audience list is created automatically.
Ads are then placed.
Now, after the ads are placed; results are collected, examined and then optimized.
The following chart explains this process in brief: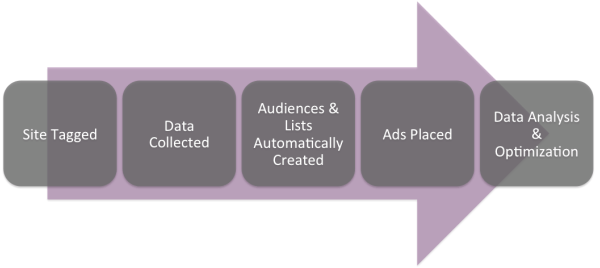 The unique benefits of Programmatic Advertising are as follows:
Provides more time to focus on the strategy.
Data collected through this way provides a detailed view of the customer. So, here we can say that data is the king because it provides complete information about the customer and the more we know about them, the more successful we are.
Display is where paid advertising is used the most. With the use of technology one can create, analyze and optimize audience for better results as well as focusing time on the main aim.
Types of Data Used by Advertisers:
Programmatic data is entirely based on data. To know how it works, it is necessary to understand the data types used by advertisers and these are as follows:
First Party Data: The data that is directly collected and owned by company is called First Party Data and some of the common types of first party data are transaction information, lead form fills, search query reports, placement reports and more.
Second Party Data: The data owned by company but shared with an outside company is called Second Party data.
Third Party Data: The data that is collected by outside entity is called third party data. It is usually collected from different companies and then sold to additional platforms.
Advertisers must be aware about these data types so that they can know the ways to implement them. Using Programmatic Advertising; one can make proper use of these data types. It is an algorithm that is used to check the behaviours as well as the purpose for which the data is to be collected.
Programmatic Advertising Strategies:
This advertising technique can be used in several ways to grow business and these are as follows:
Carry out Market Research: Programmatic Advertising can be used to conduct market research as well as analyze customer behaviour and increase the brand appeal.
Get New customers: The similar type of audience list can be developed with the help of using third party data which is similar to converting first party data. Similar types of audience have higher conversion rates as they contain the same attributes of those who already are your customers.
How Programmatic can boost PPC Campaigns?
Programmatic advertising can boost PPC Campaigns with its ability to add new customers to the conversion funnel. The top of the funnel displays audiences via programmatic advertising for creating initial awareness which offers a unique opportunity to convert them at a later point.
Getting new audiences can lead to an increase in both branded as well as non branded searches and this increases the overall PPC traffic as well as conversions. In addition to this, the entire traffic of AdWords and Bing Ads also increases.
It enhances the PPC Campaign with the help of valuable data it offers. It is rich in data. For example: Learning the interests, likes and dislikes, geographical location, customer gender can be useful to know about keywords purchase as well as ad messaging strategies. Further, it offers competitive advantage and enhances the results.
Wind up:
So, from now on while framing the online marketing strategy; make sure to include Programmatic advertising as a part of it as it is one of the very useful ways to target new audiences which can further be transformed into loyal customers.
The data obtained with this technique can be used in various ways which brings people closer thus transforming a viewer into customer. Every business owner must focus on buying audience instead of buying media.
It is one of the powerful ways to get targeted customers who are willing to convert and lead the business ahead.
For more such tips and tricks to boost your digital marketing strategies; stay connected with Platinum SEO; SEO experts in Melbourne where you will get customized solutions for your business that will help you to target people that match your business criteria.