When it comes to get higher rankings, we can say that the most common advice is to stay updated with Google Updates, adhere to Google guidelines and more. Sometimes, it is also necessary to update or reorganize your digital business model as per Google Algorithm updates.
Now, if you see Google's organic search is not related to the maximum paid ads, its related to how remarkable your work is! That means how many visitors are attracted to your post and how many find it useful.
If we speak about Google's algorithm system then it is based on voting system as well as links and this related to the black market of purchasing growing links and this was a big threat to their main income source – Google Adwords. As rankings based on corporate budget rather than the quality as well as relevancy will definitely affect the customer satisfaction score. This will lessen Google Adwords market share.
Keeping all these things into consideration, Google keeps on updating its algorithm so that websites that fail to provide qualitative information as well as fulfill the purpose of any visitor should automatically be de-ranked or may be banned. This will increase Google's performance as well as customer satisfaction level.
So, if you feel that your website provides perfect quality to the visitors and must be among top search results no matter whatever Google algorithm changes occur then you need to stay updated with those and remodel your Online business model accordingly.
Things to be kept in mind while updating the E- Business Model
So, now you are ready to reassess your online business plans as per Google Algorithmic Updates. Therefore, first of all you must identify your business features that make you stand out among the crowd. Be honest, if your business possesses those features then it will definitely impress visitors and make them discuss about you.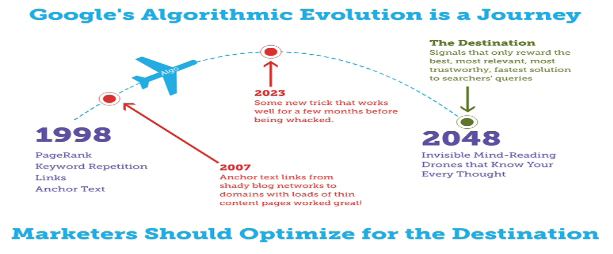 In case you don't possess such Features then Here are The tips for You
Transform something that already exists or Create anything New
So, you think your business is lacking some features then you must either alter the idea that already exists or you can just develop something new. Creating completely new things can be much more effective but it will have more risk. When we talk about search, it helps the existing things to be looked at and new innovative things take time to be a part of search results.
On the other hand, altering an idea that already exists can also be a good option. Here, you can select the business framework and then alter it as per your needs. We all might have heard about Amazon.com, the biggest well known online marketplace is an excellent example of this approach.
Get the benefit from Algorithmic Multifariousness
Google's Algorithm mostly relies on links. On page development factors are considered the most. Other factors like as user interaction metrics, multivariate testing, conversion funnel analysis as well as other related tactics are supported by various different suggestions that match the needs of your target audience.
Are these changes useful to SEO Experts?
These changes reveal that search results mostly rely beyond traditional basics. Now, for brands it is a really a thoughtful question as to how they can make them appear different from others and provide their brand story to life.
This is more challenging when working with large enterprises. However, experts should always identify ways to handle the pressure may it is due to Google likes or from the society. It is mandatory to be unique, remarkable and a hot topic for discussion and then only your online business will be able to get fruitful results.
Wind Up
At Platinum SEO, SEO experts Melbourne will help you to reconstruct your business model as per the algorithm updates. Get in touch with them today!