As promised earlier, Facebook is still conducting its eCommerce test that checks it eCommerce features. This test was first done in Australia where Facebook offered some particular pages that allowed people to create posts with a "Sell" button.
However, this latest update failed to get the required results as well as impress users. However, it deeply impacted the way people approached social media marketing. Ecommerce and social media are the two marketing channels that are used to spread the word for any business.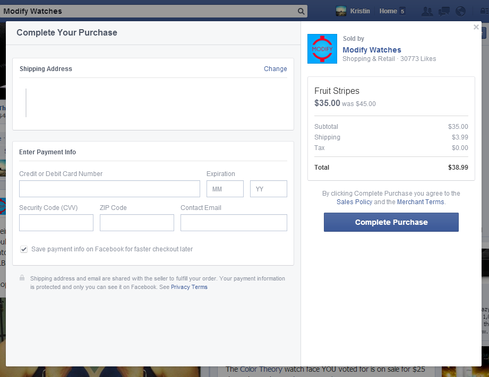 Amalgamation of eCommerce and Social Media Platforms:
Previously, these two were considered as different platforms but now slowly both are being integrated with each other. At present, social websites like as Facebook, Twitter are now slowly being transformed into eCommerce platforms as well.
If we closely take a look at well known eCommerce site Amazon then it now allows written reviews, profiles about its products. On the other hand, Facebook started developing tools for various businesses which are useful in integrating ads, analytics as well as apps in their fan pages.
To take a look at perfect combination of eCommerce and Social media website; one can view "Buyable Pins" on Pinterest. This makes online purchasing very easy and simple as liking the product.
What Marketers must consider?
Like as Pinterest, other platforms also plan to hybrid eCommerce and social media. After Pinterest, Facebook has initialized this concept by presenting some of its experimental selling features. So, first of all the interest of people must be drawn with shareable content.
This way people will interact with a piece of content which makes purchase process very easy. How marketers can benefit from these changes and how can this help them in their social media marketing process?
Now, here marketers have two questions: Will the brand or product be sold on any eCommerce platform or will the content be sold on that platform? If we think logically, then customers must be given time to make proper purchase decision from social media.
However, if the product fails to sell on social media then the content can be used to modify the posts thus creating the ways to generate additional revenue as well as helping you to get the customers who can easily get involved with your brand.
As of now, there's nothing but to just sit and watch how this integration actually helps to flourish the business. This is useful even for people who are not into any online business but are willing to get involved in it.
Hence, if you are a digital marketer or any individual or a company willing to jump in the world of online business then you must keep a check on Facebook's eCommerce updates as this will help you to know how successful this amalgamation is and how will it be useful to you to sell your products as well as generate extra revenue.
Wind Up:
Our readers are tech savvy and we love to keep them updated with latest reviews as well as tech updates. For more such updates, stay tuned with Platinum SEO, SEO Services in Perth.