Content is the king and there's no second thought in that. But, do you think that people on the internet read whole content every time they see a blog post or an article? Do you think every article or blog post on your website is read thoroughly?
The Answer is no. Not all blog posts, articles are read completely. Some people just go through the headlines and if they feel interesting then only they proceed further or else it's left behind. So, the main thing is to have a catchy content headline or we can say content title.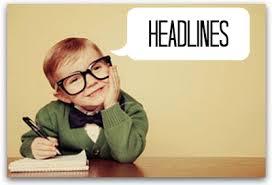 So, whenever you are writing the content; there are few things that must be borne in mind and these are as follows:
Write keeping in mind the target audience.
Use relevant keywords
Try to provide latest information
Try to use keywords in your content headline.
Using these above mentioned four tips; one can increase the chances of maximizing conversions, click through rates as well as ROI.
Writing Interesting SEO Headlines:
It's easy to write SEO friendly headlines. Your headline should reflect what the content is all about as well as it should be able to grab the readers' attention. To make this task for you, here we have mentioned few steps which if applied before actually writing the SEO headline can help to generate interactive ones:
Prepare a Content Strategy keeping in mind the preferences of your target audience:Before initiating to write SEO oriented headline, make sure you have relevant keywords. Once you have collected those keywords and phrases then try to frame a catchy title from those words.

Such titles will help you to get good rankings. Also, the article text must include those keywords. It must provide real information to the readers. So, write articles that are SEO friendly as well as audience friendly.

Very challenging, isn't it? But with practice it will be a lot easier because practice makes man perfect.

Rewrite your Headline at least thrice: Well, if you have practiced enough then it's very easy to write a catchy headline but at the initial stages you may find it somewhat a tough task to include keywords in your headline in such a way that it reflects the content as well as attracts the audience.So, start writing the headline. Read it and see how you feel? Are you really attracted? Does the headline give you the urge to read the complete article? Have you included the necessary keywords?

If the answer to all these questions is Yes, then give it a go. If no, then wait for a moment; think for another good headline, write it down and repeat the same process till you are actually satisfied with the title.

Revise your headline at least thrice and then finally choose the one that you feel is the best.

Use Social Media as a Testing tool: We all measure our digital marketing efforts at frequent intervals. Social media can also be used as a tool to measure our content marketing efforts especially headlines.See the number of followers, this shows that your content is liked by the audience. Write different types of headlines like as one in the form of tweet, another in the form of Facebook comment and then see which one is liked the most.

This will give you a perfect idea about the interests of people using social media sites and then you can easily create the one without any extra efforts.
Wind up:
Hence, through this blog post; we are sure that you will easily get some sort of guidance about writing SEO oriented headlines. So, next time you sit to write an article; make sure to consider this post as a guide.
If you are interested to know more about various elements of digital marketing that are used to boost your online presence then get in touch with well known SEO Company in Melbourne, Platinum SEO.