If I say tomorrow your website will be among the top search results or will have #1 Google Ranking, you will be very much excited. Won't you? Because everyone dreams to be on the top but no one is aware about the eligibility criteria.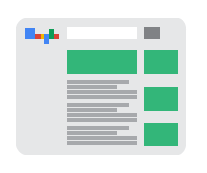 Well, don't worry. We learn from our experiences only. So, here in our today's blog post; being a different topic we will highlight the criterion that makes your website eligible to get place among top search results.
To understand the eligibility criteria, first of all it's necessary to understand how exactly Google works. So, let's begin:
How Google Works?
When you search anything on the internet, Google searches it in its own proprietary web index. If you are present in Google's index, you can be visible otherwise not. There are several reasons for not becoming a part of Google's index and these are as follows:
Google is unaware that you are on the internet: If your website is developed recently or if your website is not linked anywhere before then chances are there that Google is unaware about your presence on the World Wide Web.For this, you must adopt strong SEO techniques as offered by some well known SEO companies.
Your website might be slow: Chances are there that your website may be down when Google indexing programmes actually come to visit it. Sometimes it may be under construction or under maintenance. For any of the reasons, if your website is inaccessible by Google's indexing programmes then your website may fail to be present in Google' index thus lowering your results to get ranked.
Content may be blocked from search engines: You might see some "no index tags". These are to instruct Google that a particular website or a part of its content is not be indexed and hence this is to be ignored.This is done especially when the website is under development stage. Suppose your website is developed and is now live and your developers forgot to remove this "no index tag" then you will never be found by Google, no matter how much efforts you apply to be visible online.
It may not be possible for Google to navigate, interpret or categorize your content: Every website cannot have the same content and no website has the same design or easy and quick navigation. Based on the site structure and the tools , techniques used to develop the website, it can identified whether the website is easily categorized, can be easily interpreted or not.If your website structure fails to meet Google's guidelines and best practices then you may fail to get indexed and be away from search results.
Be Relevant: Suppose your website structure is as per Google's guidelines, also you meet all of the above criteria and still you fail to be visible among search results. Now, here the problem may be with the website speed as well as the relevant content.Reason; we all know that Google prefers to include only those sites in search results that load quickly as well as have content relevant to search queries.
Wind up:
So, next time make sure you have read this blog, understood Google's functioning properly before applying any SEO efforts. Once understood them, try to become eligible for ranking.
For any further guidance related to website structure or identifying keywords or queries that can lead you to top search results, get in touch with Platinum SEO, SEO Services in Melbourne.