While the field of digital media is growing by leaps and bounds, Facebook; the most popular social media site has reached to over 2.5 billion global users and now has achieved the level of 2 million advertising customers.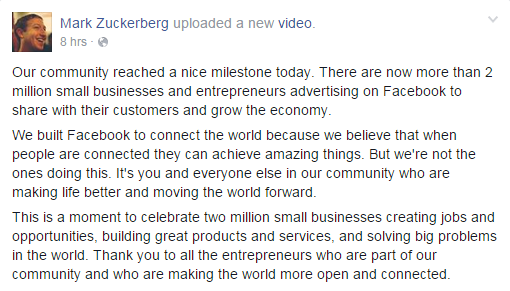 Google ranks first in terms of advertising yet if we take a look at 2015 marketing report then it states that the most Effective Digital Marketing channels and strategies consisted of email marketing, social media advertising and social media monitoring.
This shows the strength of social media advertising. As per the CEO of Facebook, Mark Zuckerberg; globalization of internet will increase if the web is brought to developing countries as well as making use of various mobile applications. To make social media marketing more powerful, marketers need to influence other advertising strategies and other such things that can be utilised to make social media more effective.
Why some brands still fail to avail the benefit from Social media?
Due to lack of proper training or understanding the need of social media, digital marketers fail to make most use of these strategies and promote their brands in a perfect manner. During further investigation, it came to limelight that lack of proper knowledge on using various social media platforms led to failure in implementation of social media strategy.
As a result, 49% of respondents lack the knowledge about native advertising, 24% have hardly heard this term and remaining 24% are little bit familiar with the name of Native advertising and only 3- 4% people have full knowledge about it.
This can really hinder the business growth as less knowledge will definitely lead to failure of any business strategy and suppose marketers lack the complete knowledge, the effective platforms for content marketing cannot be used to an extent.
If we discuss about latest Google Algorithm "Hummingbird", it highly focuses on "T" shaped authorities. These T shaped authorities means businesses having wide knowledge base and focused understanding in selected specific areas. Blogging, making use of corporate websites, native advertising are all the result oriented platforms that are used to boost the online business presence in an effective way.
In 2015, different approaches to digital advertising apart from social media will be used efficiently, brands which fail to use these strategies won't be able to progress ahead and with ill fate, it is seen that few brands have decided to leave digital marketing only because they lack the expertise.
Wind up:
To know more about leveraging social media as well as novel marketing and other PR strategies for increasing brand promotion, you can refer to the inbound marketing guidelines offered by Platinum SEO, well known SEO Company in Melbourne.
Keep in touch with experts and get to know about how social media can be used up to an extent to increase brand presence over the internet, this will help you to know how digital marketing can be used to stay different from the crowd. Learn well, progress well with the effective use of social media.