Google Adwords has been a wonderful tool to use when one wants to improve search results. Apart from Google; there are many other tools which serve the purpose. However, Adwords is the most recommended one.
Here, We Will Discuss How Google Adword's New Layout Impacts SEO:
So, when you think of advertising with Google; what you first think of is Google Adwords. Google keeps on experimenting with almost everything. Recently, it is experimenting with the look of results page.
In this new look, advertisements will be absent from the right side bar. This raises a question whether it will affect the website or not and if Yes then in what way? What changes will be made in advertisements with Google.
Previously, the moment anything was entered in search box; there were paid advertisements seen on top and right side of results page. Now, these will be available only at the top. Ads along the right side of the page are removed and this space is reserved only for highly commercial searches.
Will this affect Google Advertising in any way?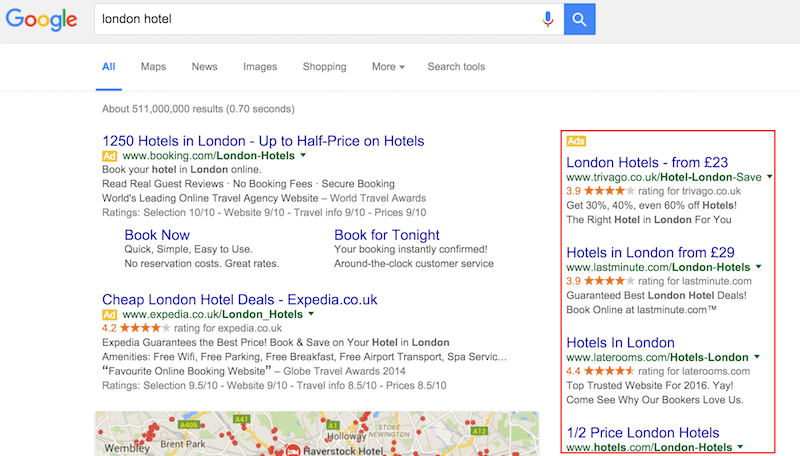 It will have very less impact on website's organic results rank. Now, Google will place four ads at the top and three at the bottom.
Organic results and Paid Ads:
The overall number of ads will drop from 11 to 7 display ads. Organic searches will hold top 10 positions. This means to get your website ranking on first page can be now more costly. From now on, make sure that the organic SEO is in its place.
Will Pay per Click Ads be more costly?
Well, this is not known yet. Since 2010, Google has been experimenting with four ads on top and three at bottom and it change came into implementation from February 2016. At present, no such data is available to know whether the prices of Pay per click ads will be added or will remain the same.
You will see very few ads overall the result pages and this might lead to a conclusion that the reduction in number of ads can lead to increase in prices. Let's see what future has in its treasure for Pay per click ads.
If we look at the other side of the coin then the top section has more ads. So, this may be either to focus on Google business results or Organic search results; one cannot eat two pies at same time
Take Away
This I think has cleared your doubts and questions about the new Google Adwords layout. Get in touch with experts at Platinum SEO; SEO Company Sydney to know more about updates and hip n happenings of the Google world because they have spy eyes on what Google is doing.
Stay tuned. Don't forget to share the feedback of this post with us. See you soon with other such posts that will enhance your knowledge about Google Adwords and its use for business thus helping you to reach skies.