Local presence is necessary for any business. First of all; one must be popular in the local market and then one can easily get widely known in international world. Two months back i.e. in August; Google had made some changes in its Local Search.
This led to the question how to sustain in this competitive world and stay competitive in local search? The answer to this question is available in this blog post.
Well, before we actually go for the answer, let's take a look at those changes in Google Local Search:
Google Local Search Updates:
Along with the business names; Google's local 7 Pack included addresses as well as phone numbers. But now in new snack pack addresses still remain; phone numbers have vanished.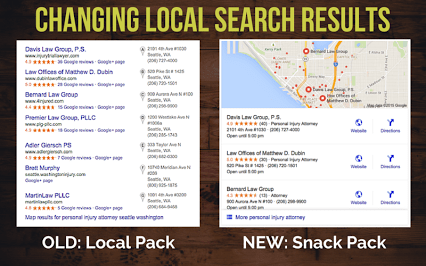 Searchers can take a note of store hours as now store hours are displayed instead of phone numbers. This gives a clear idea to the visitors whether the business they are looking for is available within their timings or not and they can easily plan when to visit a particular store.
More information is available when the person clicks on the business name and it opens an expanded view that contains full name, address as well as Phone number.
Google's old pack included links to Google Plus pages and now these are unavailable in the newest one but now the link is available to the own website of the business. This will make it easy for businesses to drive more traffic on their sites.
Talking about reviews and review stars; the criterion is same as available in Old Google Pack. Further, now the businesses are integrated with Google Maps instead of Google Plus integration. Maps serve as a best part to conduct research.
What's New?
Google Local Pack has now changed from 7 to 3.
Google Maps are still of prime importance.
When it comes to local search, Google Maps are of less importance.
Website visibility has increased
Phone numbers are hidden but can be found only by those who are really interested.
Reviews and view stars are same.
This sounds really worrying because now local search will display only three listings instead of seven and it leads to a thought how to make most use of Local search listings and sustain in this competitive market. Well, it's very easy if you are ready to make some adjustments.
How to adjust local search marketing Objectives?
If you are thinking to occupy any particular in this new local 3 pack then you are going on the wrong way because this new pack is actually based on the location of a person. The results in the local pack are shown based on the nearness of the searcher.
One needs to take a look at expanded view of few businesses to identify the one that is very nearer. This is the point where competitiveness comes into limelight and here people will not choose the first option visible to them; instead they will select the one that is "NEAR TO THEM".
So, keeping this thing in mind; first of all what one must do is provide all information about your business to Google.
Offer as much information as you can; the more people are able to know you; the more they will be interested in interacting with you and this will also help them to understand whether your business is the really one they need or they have to search for another.
Google Search is the option that people use to extract more and more information about any business.
So, how can you provide information to Google?
Via Website's On Page content
Website's Off Page Signals
Google Maps
Local Reviews
Offline Marketing
Developing Local links etc.
Now, let's discuss this in detail:
Optimizing On page Content: Location of your business must be easily found out by search engine spiders when they crawl on your website. If your business is located at more than one location then you need to create separate pages for each location and each city where you offer services to your customers.Every page should have different content as this will help you to get good rankings for every individual page. Avoid copying same content on every location page thinking that it doesn't matter as it is of same business. Friend, it matters a lot!

Every location page must have embedded Google maps as well as Schema mark up on the address, company name and telephone number.

Optimizing Off Page Content: Off page content is the one that is truly competitive. Off page signals should be very strong. This includes developing a strong presence in the local directory such as YellowPages.com that supplements the site's local ranking potential.Certain tools like SEO Power suite can provide you with the most well known local directories available in your niche.
Optimizing Google Maps Listing: If your business is displayed in local 3 pack then there is no doubt that your Google Maps listing is superior. Maps must have these details: Name, address, Phone number, reviews and store hours.These details make it easier for viewers to know how and when they can contact the business. Always have a proper schema mark up on your site as then only Google will showcase your store hours in search results.
Get maximum local reviews on various local review sites: Making most use of local review sites is one of the ways to stay in this competitive world. One must know what a person will find about a business when he/she is redirected to any well known local review site page while searching about your business.Be it anyway but it is important that you must develop a strong presence on such popular review sites.
Get more links through Offline Marketing: Along with online marketing; offline marketing also plays an important role in increasing your online presence. Here are few ideas that can help you out:

Get links from .edu sites as Google puts more weight on these domains.
Support local charities and NGOs.
Be a member of Local Chambers of Commerce
Wind Up:
Following these ideas will definitely help you to sustain in the competitive world even with this 3 Pack. Let us know how this blog post helped you. Do share your feedback regarding this post with us.
For more such guidelines, stay connected with Platinum SEO; a well known firm offering online business optimization services at nominal SEO Prices in Melbourne.